Miller to Showcase TIG Welders, Lightweight Plasma Cutter and New Millermatic MIG Welders at 2007 FABTECH International/AWS Welding Show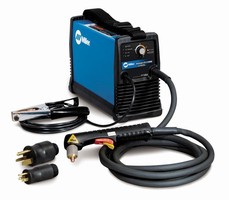 APPLETON, Wis., July 23, 2007 - Miller Electric Mfg. Co. (booth #4071) will showcase its new Dynasty 350 AC/DC TIG inverter, Maxstar 350 DC TIG inverter, Spectrum 375 X-TREME plasma cutter and three new Millermatic models: the Millermatic 212, DVI2 and 252, at the 2007 FABTECH International/AWS Welding Show in Chicago, November 11-14. Additional new products may be announced before the show.

Full press releases and photos can be found at http://millerwelds.com/about/news_releases/2007/articles207.html

New Miller products at the show:

o With high speed pulsing and advanced AC waveshaping controls, the Miller Dynasty® 350 TIG inverter is designed to increase productivity in heavy industrial applications. Offering increased output and independent AC amplitude/amperage control, the Dynasty 350 is the industry's most advanced AC/DC TIG/Stick inverter in its class.

The Dynasty 350 can dramatically increase travel speeds, eliminate weld flaws related to poor arc starts, permit the use of smaller diameter electrodes, extend electrode life, provide precise puddle control, mimic traditional arc characteristics and reduce cycle time defects and rework.

o Miller's new Maxstar® 350 DC TIG/Stick inverter features pulsing capabilities up to 5,000 pulses per second to offer improved DC TIG welding productivity and quality in industrial applications. The Maxstar 350 delivers 5 to 350 amp output (300 A at 32 V, 60 percent duty cycle), weighs 135.5 lbs and features Auto-Line(TM) technology, allowing it to run from any input power, 208 to 575 V, single- or three-phase.

o Miller's Spectrum 375 X-TREME plasma cutter takes plasma cutting to an unprecedented level of portability. Weighing only 18 lbs., the Spectrum 375 X-TREME provides the cutting capacity (3/8-in. cutting capacity on mild steel and ¼ in. on aluminum) of machines twice its size, is light enough to be carried by its shoulder strap, and versatile enough to connect to any 115V-230V single-phase power supply.

An optional drop-tested X-CASE provides ample storage room for related equipment and exceptional protection for the 375 X-TREME during transport and storage.

o The new Millermatic® 252 all-in-one MIG welder features high quality arc characteristics, and allows the operator to roll, rather than lift, cylinders into position and to switch easily between steel and aluminum applications. The Millermatic 252 (250 amps at 40% duty cycle) features a built-in digital timer menu for setting standard wire feed run-in, shielding gas pre/post flow, wire burnback and spot/delay times (used to set repeatable tack welding parameters and ensure consistency). A push-pull gun can plug directly into the machine without the need for extra modules, and a patented Auto Gun Detect(TM) feature allows the operator to simply pull the trigger on a connected MIG gun, spool gun or push pull gun while the machine recalls the voltage, wirefeed speed and timers of the active gun.

o The Millermatic DVI2(TM) and Millermatic 212 maintain the same high quality arc characteristics as their predecessors, but add several new features to increase operator friendliness, workplace convenience and productivity, such as the ability to roll rather than lift gas cylinders into position and to switch easily between steel and aluminum applications. A patented EZ-Change(TM) cylinder rack allows operators to roll gas cylinders on and off the cylinder rack, rather than having to lift gas cylinders into place, and an angled dual-gear drive system with a spring-loaded drive roll assembly provides easy wire changes, tool-less drive roll changeover, convenient drive roll storage and smoother wire feeding.

With headquarters in Appleton, Wis., Miller Electric Mfg. Co. is a leading worldwide manufacturer of Miller brand arc welding equipment and related systems for metalworking, construction, maintenance and other applications. Miller Electric is a wholly owned subsidiary of Illinois Tool Works Inc. (ITW), Glenview, Ill. ITW is a diversified multinational manufacturer of highly engineered components, assemblies and systems.


Related