Miller to Showcase Latest Arc Welding and Plasma Cutting Technology at MINExpo 2008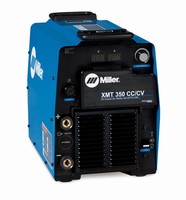 APPLETON, Wis., July 9, 2008 Miller Electric Mfg. Co. will showcase the latest in arc welding and plasma cutting technology at MINExpo 2008, booth #7991, September 22-24 at the Las Vegas Convention Center. On hand will be the Miller XMT 350 multi-process welding power source, SuitCase X-TREME 12VS portable wire feeder, Spectrum 1000 and Spectrum 375 X-TREME plasma cutters, BigBlue AirPak welder/generator/air compressor, plus the Vintage USA Digital Elite auto-darkening helmet.

* The Miller XMT 350 CC/CV multi-process inverter provides superior arc performance in MIG, flux core, Stick, TIG and Air Carbon Arc Gouging processes. Incorporating Millers Auto-Line power management technology and line voltage compensation, the XMT allows for any input voltage from 208V to 575V with no manual linking required and keeps welding output steady even if voltage varies by +- 10 percent.

* The Miller SuitCase X-TREME 12 VS portable wire feeder provides excellent starts and superior arc performance for all types and sizes of wires whether using a CV or CC power supply. Featuring digital meters with SunVision for easy reading, even in direct sunlight, the SuitCase X-TREME is protected by a tough polypropylene case for added jobsite durability.

* Millers BigBlue AirPak welder/generator/air compressor provides superior multi-process capabilities (Stick, MIG, flux core, TIG, Stud Welding, Air Carbon Arc Gouging and Air Plasma Cutting and Gouging), as well as generator power and compressed air in a rugged package that features Millers Vault technology to protect the circuit board from dust, dirt and moisture for added reliability.

* Miller Spectrum plasma cutters combine unsurpassed reliability with the ability to quickly cut or gouge any electrically conductive metal. The Spectrum 1000 is rated at a 1-inch cutting capacity, while the Spectrum X-TREME 375 provides 3/8-inch cutting capacity in a lightweight, 18-lb. package.

* Millers new Vintage USA Digital Elite auto-darkening helmet features Weld, Cut, Grind and X-modes and retains user preferences for each. The X-mode senses arc starts even when the arc may be obscured. With four arc sensors that provide a 1/20,000-second lens speed and a 30-percent larger viewing field, the Digital Elite series is ideal for any welding professional.

Miller Electric Mfg. Co. is a leading worldwide manufacturer of Miller brand arc welding equipment and is a wholly owned subsidiary of Illinois Tool Works Inc. (NYSE: ITW).

More from Architectural & Civil Engineering Products