Miller to Introduce New Pipe Welding System, Improved TIG Welder and More at WESTEC 2009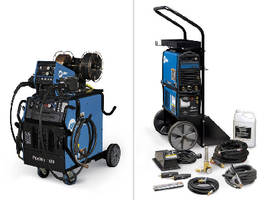 Visit Miller at Booth #4013

On display: PipeWorx(TM) Welding System, designed to streamline pipe fabrication.
Also on display: Miller's Dynasty 200® AC/DC TIG/Stick inverter now available in a complete water-cooled TIGRunner® package.

APPLETON, Wis., February 3, 2009-- Miller Electric Mfg. Co. will be presenting several new welding and plasma cutting solutions in booth #4013 at the WESTEC 2009 Exposition taking place at the Los Angeles Convention Center, March 30 through April 2. Products on display include the new PipeWorx(TM) Welding System, a multi-process welding system designed for pipe fabrication shops, and the Dynasty 200 AC/DC TIG/Stick welder, which is now available in a complete water-cooled package for increased operator comfort and ordering convenience. New Spectrum® portable plasma cutting units and Millermatic® all-in-one MIG welders will also debut at this year's show.

o Miller's PipeWorx(TM) Welding System is an easy-to-use multi-process welding solution specifically designed for use in pipe fabrication shops to improve pipe welding quality and productivity. PipeWorx provides one-button, quick changeover between processes; cables remain connected to the power source and do not need to be switched for the different welding processes. Stick, TIG, flux cored and MIG processes are each optimized for pipe welding. The PipeWorx System includes Miller's RMD(TM) and Pro-Pulse(TM) processes, which enable even new welders to produce code-quality welds quickly and with less training.

o Miller's Dynasty 200 Series AC/DC TIG/Stick welders are now available in complete TIGRunner® packages. The TIGRunner cart increases mobility and organization, while the water-cooled torch increases operator comfort when welding at higher amperages for longer periods of time. TIGRunner systems also increase ordering convenience and accuracy by enabling customers to order a complete 200-amp water-cooled Miller TIG welding system with just one stock number.

Information on the new plasma cutters, Millermatic welders and other products will be released as the show date nears. Visit MillerWelds.com for new product announcements.

About Miller

Miller Electric Mfg. Co., headquartered in Appleton, Wis., is a leading worldwide manufacturer of Miller brand arc welding equipment and is a wholly owned subsidiary of Illinois Tool Works Inc. (NYSE: ITW).

For more information, visit Miller's Web site at www.MillerWelds.com, call 1-800-4-A-Miller (800-426-4553), e-mail info@millerwelds.com, fax 877-327-8132, or write to Miller Electric Mfg. Co., P.O. Box 100, Lithonia, GA 30058.

More from Electronic Components & Devices