Miller to Bring Product Introductions and Live Welding Demos to FABTECH 2013 in Chicago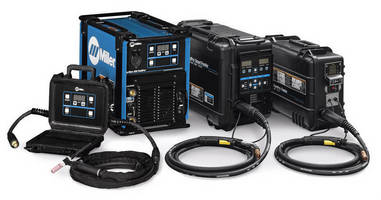 Miller Electric Mfg. Co. (Booths N1136 and N836) will display the latest and most innovative in welding and safety technology at FABTECH 2013.



APPLETON, Wis. — Miller Electric Mfg. Co. plans to showcase the latest in welding technology and safety accessories at FABTECH 2013, November 18 to 21 at the McCormick Place in Chicago. The Miller booths (N1136 and N836) will both feature welding technologies and solutions to help increase productivity, reduce costs and improve quality across applications associated with the fabrication, construction and manufacturing industries. Both booths will also feature live welding demonstrations, and Miller welding representatives will be available throughout the show to answer product and welding questions.



Solutions from ITW Welding companies' Hobart Brothers, Bernard and Tregaskiss will also be demonstrated with premium Miller equipment in order to highlight the benefits of comprehensive welding solutions.



Miller will have several new products on display at the show, including:



• The PipeWorx FieldPro™ System, which is designed for onsite pipe welding in the refinery, petrochemical, power generation and HVAC industries, offers traditional Stick, TIG, MIG and Flux-Cored welding processes. It can also provided advanced Regulated Metal Deposition (RMD®) and Pulsed MIG processes with the addition of the FieldPro Smart Feeder. The PipeWorx FieldPro System provides advanced remote control capabilities that eliminate travel to and from the power source, optimize productivity and simplify process changeover. In addition, the system simplifies cable management by eliminating all of the communication cables that cause clutter and hassle on the job sites. It also features controls that are labeled in common welder terminology to make it simple and intuitive to use.



• The Classic VSi and the Classic FS #10 2x4 Flip-Up welding helmets are the newest additions to the trusted Miller Classic Series. These helmets provide a cost-effective alternative to welding operators who have previously used passive lenses and are looking for the performance and flexibility of an auto-darkening helmet. The helmets offer new flip-up design features that allow the welding operator to grind and carry out other tasks without raising the welding helmet or switching over to a dedicated grinding mask — saving time and ensuring consistent protection of the face.



• A new hard hat option for the Miller Powered Air Purifying Respirator (PAPR) line has been paired with the company's Titanium Series™ auto-darkening welding helmets. These helmets feature exclusive InfoTrack™ digital lens technology, while the PAPRs provide excellent respiratory protection from hazardous welding fumes found in some welding environments. The hard hat option is ideal for welding applications in construction, manufacturing, pipelines, shipbuilding and other industries where hard hat use is required.



About Miller



Miller Electric Mfg. Co., headquartered in Appleton, Wis., is a leading worldwide manufacturer of Miller brand arc welding equipment and is a wholly owned subsidiary of Illinois Tool Works Inc. (NYSE: ITW).



For more information, visit Miller's website at www.MillerWelds.com, call 1-800-4-A-Miller (800-426-4553), e-mail info@millerwelds.com, fax 877-327-8132, or write to Miller Electric Mfg. Co., P.O. Box 100, Lithonia, GA 30058.



More from Cleaning Products & Equipment