Military Helmet combines ergonomics and ballistics protection.
Press Release Summary: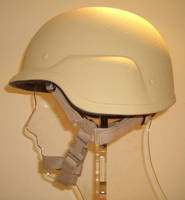 Constructed from High Performance Polyethylene (HPPE) Unidirectional (UD) materials, chemical- and water-resistant Ballistic helmet Shell weighs 1,250 g, comes in PASGT and MICH shapes, and completely stops 5.56 and 7.62 mm cartridges as well as 7.62 mm pistol steel core rounds. Helmet fully complies with MIL-STD-662F requirements and meets NIJ Ballistic standards. To allow for painting of complete helmet, shells can be supplied with thin aramid cover.
---
Original Press Release:

FMS Will Introduce Next Generation Helmet at LAAD 2013



The new high performance, lightweight ballistic shell is designed to stop rifle rounds such as the 5.56x45mm, 7.62x39mm, 7.62x51mm, lead core cartridges and Tokarev 7.62mm pistol steel core rounds



Tel-Aviv, Israel – FMS Enterprises, a leader in the development and manufacturing of advanced ballistic protection solutions, will unveil a new Ballistic helmet Shell at LAAD, April 9-12, Rio de Janeiro, Brazil, Israel Pavilion, Hall 4, Booth # K-34.



Constructed from specially designed High Performance Polyethylene (HPPE) Unidirectional (UD) materials, the new shell offers superior ballistic protection. At a weight of 1,250 grams, it completely stops 5.56mm and 7.62mm cartridges and 7.62mm pistol steel core rounds. The new shell fully complies with the requirements of MIL-STD-662F and meets NIJ Ballistic standards.



"We are excited to announce our new helmet shell at LAAD 2013" said Oren Gruber, VP Marketing & Business Development at FMS Enterprises. "Offering new level of protection, this life saving helmet incorporates the latest technology in ballistic composite construction and advanced ergonomic design to maximize protection and comfortably integrate with other personal protection systems such as body armor." Gruber added. The new shell is available in PASGT and MICH shapes to enhance the soldier's aural perception assist in acquiring a sight picture.



The helmet is chemical and water resistant. To allow for simple painting of the complete helmet the shells can be supplied with a thin aramid cover.



Apart from the new helmet shells, FMS Enterprises is displaying at LAAD 2013 its soft and hard armor products for personal protection gear and vehicle armoring:



Body Armor Product Line



FMS Enterprises' Soft ballistic protection solutions include a wide range of UD Polyethylene and UD Aramid materials. The soft ballistic protection solutions provide the highest protection rating in soft armor, minimizing blunt trauma injury.



FMS Enterprises also produces body armor plates made from Ultra High Molecular Weight Polyethylene, available in a wide range of sizes and shapes, designed to withstand both lead core and mild steel core ammunition. All plates feature a high multi-hit capability, providing the soldier with an outstanding degree of safety if hit by multiple fragments or projectiles.



Vehicle Armor Product Line

In the vehicle protection category FMS is offering flat or curved composite armor solutions for civil or military vehicles. For this application FMS offers both Pressed Aramid and pressed UHMW-PE panels, protecting against handgun bullets and fragments. For higher protection levels high-pressure pressed panels provide protection against guns and assault rifles.



About FMS

Since 1986 FMS Enterprises Migun Ltd. has pioneered, developed and manufactured raw materials for advanced ballistic protection and armor products for personal and vehicle protection. The company was established in Israel and currently sells its products in more than 40 countries worldwide.



FMS is one of the main sources worldwide for Uni-Directional (UD) fabrics, pressed panels from UD fabrics and composite ceramic plates. FMS is a preferred supplier to the Israel Defense Forces (IDF) and an approved supplier to various Ministries of Defense around the world. The ballistic protection systems based on FMS materials are used for bulletproof vests, helmets and shields, as well as for armoring civil and military vehicles, ships and aircraft.



FMS is a public company listed on the Tel Aviv Stock Exchange.



Contact details:

Alex Gurevich

Marketing Director

FMS Enterprises Migun Ltd.

Office: +972-3-914-06-22

Mobile: +972-52-332-9903

Email: fms3@fms.co.il

Related