Milbank's Irrigation Pedestal feature 3-pole 480V class CC fuses.
Press Release Summary: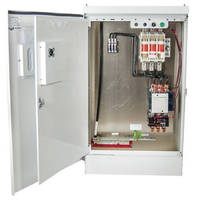 Installed in less than an hour, Milbank's Irrigation Pedestal is pre-wired, enabling the installer to simply mount the pedestal onto the provided slab using the lifting eyes that are pre-installed, connect the wires onto the lug landings and run them out from the motor starter. Ensuring protection from energy theft, motor connect and disconnect controls are housed in a lockable enclosure. Pedestal also includes extra two knockouts for mounting additional push buttons.
---
Original Press Release:
Milbank Launches New Quick-Install Irrigation Pedestal to Save Operators Time and Money
Milbank Manufacturing, a U.S.-owned and operated energy management company known for high quality enclosures, has launched a new product line of irrigation pedestals designed specifically to address the needs of farm operators, large and small.

Feedback from operators showed that irrigation pedestal installations were often very time consuming and costly. Milbank's irrigation pedestal products solve both of those problems. First, pedestals can be installed quickly and simply – in a fraction of the time typically needed for strut farm and other installation setups. Milbank's pedestal takes less than an hour to install and can often be completed by a single technician. Because the pedestal is pre-wired, the installer simply lays the concrete slab, drops in the pedestal using the lifting eyes pre-installed, hooks the wires onto the lug landings and runs the wires out from the motor starter. What's more, the motor starter and disconnect are in the same enclosure, so all the controls are housed in a safe, lockable enclosure, saving space and protecting against vandalism and energy theft. Second, because of the pre-wiring from Milbank and the easy install, operators stand to save considerably on the install costs.

"Milbank's irrigation pedestal was built specifically based on operator's input. From the pre-wiring, to the size and shape of the enclosure, to the standard slab that comes as part of the package – it's built to be easy and provide a great return-on-investment," said Jay McMullen, senior product line manager for Milbank. "The standard pedestal also includes an extra two knockouts for mounting additional push buttons as well as 20-30 amp or 3-pole 480V class CC fuses so operators can wire in anything additional they'd like in that secure enclosure including technology that allows the operator to control the system via smart phones remotely. There's plenty of extra room in the box."

About Milbank

Milbank is an international energy management company, developing and manufacturing over 19,000 finished good items that travel through 4,500 distributors to bring electricity into homes, businesses, and cities in 36 countries. Most products are made in the U.S. Milbank is headquartered in Kansas City, Mo. For more information, please visit milbankworks.com.

SOURCE Milbank

CONTACT:

Jay McMullen 
Senior Product Line Manager,
816-410-7257
jmcmullen@milbankworks.com 

Pam Besheer 
Director of Marketing & Public Affairs,
816.410-7226 
pbesheer@milbankworks.com

Web Site: http://www.bankworks.com
More from Controls & Controllers