MIL-SPEC Optical Transceivers come in MSA 2x5 SFF package.
Press Release Summary: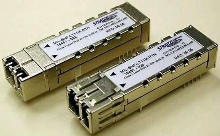 Constructed to IPC Class 3 standards, small form factor (SFF) transceivers comply with MIL-STD-810E and operate using multimode fiber. LED version operates at 1,310 nm and complies with IEEE 803.2u Fast Ethernet standard. It operates at data rates from 1-300 Mbps and supports data links up to 1.2 miles. Operating at 850 nm, VCSEL-based version supports data links up to 1,600 ft and is intended for Gigabit Ethernet, 1xFibre Channel, or InfiniBand.
---
Original Press Release:

Stratos Lightwave is First Major Supplier of Ruggedized MIL-SPEC Optical Transceivers in MSA 2x5 SFF Packaging


CHICAGO, IL--Stratos Lightwave LLC is announcing a new family of ruggedized Small Form Factor (SFF) optical transceivers which are compliant with industry-standard MSA 2x5 footprint and packaging requirements. These transceivers are the first SFF units available from any major manufacturer which are constructed to IPC Class 3 standards and are validated for compliance with MIL-STD-810E. Stratos ruggedized SFF transceivers provide the speed and security of fiber optic communications, with the durability and reliability necessary for military and avionics applications.

Unlike conventional (COTS) SFF transceivers, these units need no additional re-work or testing to meet the requirements of military and avionics standards. They are designed, constructed, and tested specifically for these markets.

Stratos ruggedized SFF optical transceivers are available in LED- and VCSEL-based versions. The LED version operates at 1310nm and it is fully compliant with the IEEE 803.2u Fast Ethernet standard, although it can operate at any data rate from 1Mbps to 300Mbps. This transceiver operates with multimode fiber, and it supports data links up to 2Km (1.2 miles).

The VCSEL-based transceiver operates at 850nm, and it is intended for Gigabit Ethernet, 1xFibre Channel, or InfiniBand. It also operates using multimode fiber, for data links up to 550m (1600ft).

Both units are guaranteed for operation over the industrial temperature range of -40°C to +85°C, and their designs are also characterized for operational design margin from -55°C to +95°C and higher. Stratos' ruggedized SFF transceivers are housed in all-metal enclosures equipped with industry-standard duplex multimode LC receptacles. In addition to meeting MIL-STD-810E testing for cold soak, hot soak, thermal cycling, and 3-axis vibration, these units are also analyzed for reliability using MIL-HDBK-217FN2 guidelines. Stratos is able to offer these unique transceivers as standard products due to their expertise in both the commercial and the military/harsh environment marketplaces.

A number of options are available, including Parylene C conformal coating on the internal transceiver circuits, data rates up to 3.125Gb/s, and singlemode versions of certain models.

Pricing for Stratos Lightwave's new ruggedized SFF transceivers varies depending on model chosen, quantity ordered, and options specified, and starts at approximately $100 each for an LED-based transceiver in single lot quantities. Units are now in production.

Visit www.stratoslightwave.com/shop/searchstore.asp?categories=237 for product data sheets. To obtain additional information, contact Grover Brower at Stratos Lightwave LLC, 7444 W. Wilson Ave, Chicago, IL USA 60706-4549. Phone: 800.323.6858 FAX: 708.867.4140 E-mail: info@stratoslightwave.com URL: www.stratoslightwave.com

Stratos Lightwave LLC is a wholly owned subsidiary of Stratos International, Inc. Stratos International, Inc. (NASDAQ: STLW) produces electronic and optical subsystems and components for high data rate networking and data storage in enterprise, telecommunications, broadcast, military and industrial applications. In the optical arena, Stratos produces optical transceivers and integrated products in a variety of data rates and communication protocols. Stratos also produces a wide range of fiber optic, RF and microwave components and cable assemblies. Stratos' Tsunami products are components and modules that separate, combine, and route light, for high-bandwidth optical communication applications.

More from Electrical Equipment & Systems