Mikron HSM 500 Graphite Mill is equipped with Step-Tec spindle.
Press Release Summary: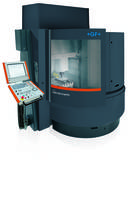 Featuring high high-dynamic drives, polymer concrete base and spindle, Mikron HSM 500 Graphite Mill is suitable in wet and graphite applications. Product is embedded with Operator Support System, Intelligent Thermal Control and Advanced Process System. Unit's Step-Tec spindle delivers a speed of up to 42,000-rpm and can pair with System 3R WorkPartner 1+ and an AgieCharmilles FORM P 250.
---
Original Press Release:
Mikron HSM 500 Graphite Offers Superior Flexibility and Unmatched Speeds
To meet the extremely demanding mold and die machining needs of high-tech industries, GF Machining Solutions has unveiled the new Mikron HSM 500 Graphite high-speed mill. The system combines the features of a dedicated graphite machine with the flexibility of the company's HSM 500 high-speed milling platform. Clad in black paint to denote its specialty, the machine sports an optimized Step-Tec 42,000-rpm spindle, a sophisticated exhaust system and the ability to quickly switch between wet and dry machining.
The unparalleled flexibility of the HSM 500 Graphite ensures that shops can have an all-in-one high-speed milling solution that allows for wet applications while at the same time benefiting from a machine that specializes in graphite applications. Its high-dynamic drives, polymer concrete base and improved spindle allow the machine to hold extremely tight tolerances, such as those required for advanced glass molds and other graphite parts.
"For most applications, the entire process has to be perfect, not just the machine," said Dante Payva, Project Manager of GF Machining Solutions' milling division. "Everything needs to be considered, from the overall shop environment and temperature to the precise measurement of the cutters and process speeds. Our smart machine modules and training programs make that easier than ever even as our machines become more sophisticated." To that end, the HSM 500 Graphite includes the Operator Support System for automating complex machine setting changes, Intelligent Thermal Control for warm-up time reductions as well as the highest possible accuracy and an Advanced Process System for on-the-fly control of spindle functions.
GF Machining Solutions has also designed the machine around its automation and die-sinking EDM lines to provide customers with a complete manufacturing solution, making it easy to pair the HSM 500 Graphite with such machines as a System 3R WorkPartner 1+ and an AgieCharmilles FORM P 250. The result of these innovations is a machine that can reliably and repeatedly provide the highest level of precision at speeds that allow for doubled production capacity and up to 200% more profit when compared to competing graphite mills.
About GF Machining Solutions
GF Machining Solutions is the world's leading provider of machines, diverse technical solutions and services to the tool and mold making industry as well as manufacturers of precision components. Its products range from electrical discharge machines, high-speed and high-performance milling machines - including clamping and palletization systems, 3D laser surface texturing machines and spindles - to solutions for tooling and automation, services, spare parts, expendable parts and consumables. GF Machining Solutions is a globally acting Division of the Georg Fischer Group (Switzerland) and maintains a presence on 50 sites worldwide within its own organization. Its 3,102 employees generated sales of CHF 916 million in 2016. More information can be found at www.gfms.com/us.
Related