Miki Pulley's New Step-Flex™ Couplings Offer Electric and Temperature Isolation
Press Release Summary: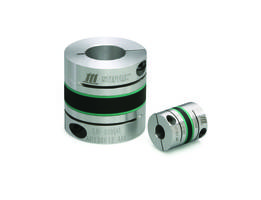 Step-Flex™ Couplings are offered in 9 sizes with bore sizes ranging from 3 mm - 30 mm and consist of two-plaster elastomer element combination that helps in dampening caused by the actuator carrier. In this coupling design the hard element is separated from aluminum alloy hubs with soft elastomer disc for minimizing vibration, angular and parallel misalignment. The units offer a torque of 60 Nm and are suitable for packaging systems, semi-conductor assembly systems, laboratory automation and medical equipment.
---
Original Press Release:
Step-Flex Couplings From Miki Pulley Improve Ball Screw Performance While Solving Resonance Problems
Plymouth, Minnesota: Miki Pulley's Step-Flex™ Couplings improve ball screw performance while solving resonance and vibration problems.
The Step-Flex is an altogether new class of shaft coupling. The Step-Flex coupling design has a two-part elastomer element combination. This assembly dampens vibration caused by the actuator carrier when struggling to find its home position by making small adjustments in rapid sequence.
With this design, the hard (black) element is separated from the aluminum alloy hubs by a softer (green) elastomer disc. This combination maintains adequate torsional stiffness for precise positional accuracy while still allowing for minimal angular and parallel misalignment, and absorbing vibration. The power-transmitting element, consisting of different hardness layers, also achieves a reduction in counter force generated by misalignment. This can greatly reduce the load on the bearing – resulting in reduced heat load.
Another key feature is the electric and temperature isolation provided by the coupling's elastomer element. This mitigates conductive heat transfer from motor to output shaft, important in rotary motion applications. Plus, it also halts stray voltage traveling on the shaft. Applications include automation of all types where ball screws are used including packaging systems, semi-conductor assembly systems, laboratory automation and medical equipment.
Basic Step-Flex specifications are:
9 sizes available
Torque: 531 in-lbs. (60 Nm)
Bore size range: 1/8" to 1.125" (3mm - 30mm)
See this unique Miki Pulley coupling operate at: www.mikipulley-us.com 
For more information about Miki Pulley Step-Flex couplings, call Jon Davidson at 1-800-533-1731. Email: jdavidson@mikipulley-us.com The Miki Pulley US Sales Office, 13200 Sixth Avenue North, Plymouth, Minnesota 55441-5509. Fax: 763-546-8260.
Anderson-Madison Advertising, Inc.
4600 West 77th Street, Suite 335
Edina, Minnesota 55435
952-835-5133
Email: jm@andersonmadison.com
CONTACT: Gerald F. Madison
More from Electrical Equipment & Systems