MightyVue LED Magnifying Lamp comes with heavy-duty table clamp.
Press Release Summary: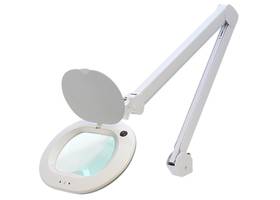 Featuring space saving slim designand covered spring arm, MightyVue Slim 5 Diopter LED Magnifying Lamp cpmes with brightness controls and protective lens cover. Providing 20,000 hours of bright, shadow-free illumination, unit's 6.5 x 4 in., 5-diopter glass lens allows crystal-clear and distortion free viewing. Product is suitable for applications such as electronics inspection, materials analysis and scientific microscopy.
---
Original Press Release:
Aven™s MightyVue Slim 5 Diopter LED Magnifying Lamp
The innovative MightyVue Slim 5 Diopter LED Magnifying Lamp is an excellent addition to your work bench. This space-saving model features a new modern slim design, a covered spring arm preventing pinch hazards, brightness controls, protective lens cover, heavy-duty table clamp and more. The large 6.5 x 4 inch, 5-diopter (2.25x magnification) glass lens allows for crystal-clear, distortion-free viewing. The touch sensitive brightness controls, giving operators the perfect lighting options for their applications. Also, the adjustable lamp angle allows operators to rotate the lamp in any position for their convenience. With no springs or exposed wires, this lamp offers a pinch-free experience. The 60 White SMD LED Lights provides 20,000 hours of bright, shadow-free illumination. Designed to last a lifetime, the lamp features a modern super slim design and a durable construction. The all-inclusive package comes with a heavy-duty mounting clamp and 4 mounting screws allowing users to mount the MightyVue Slim to the side of their work stations, or directly to a work surface.
Applications include electronics inspection, materials analysis, scientific microscopy as well as home use applications. For more information, call (734) 973-0099. A digital catalog is at www.aventools.com/printand-web-materials.
Aven, Inc. manufactures and distributes high-performance optical instruments and precision tools for microscopy, inspection and assembly. More than 800 products include video inspection systems, integrated portable microscopes, video borescopes, task lights and stainless steel tools for lab use and precision hand tools such as tweezers, pliers, cutters, screwdrivers, crimpers, knives and alignment tools. Brands include Mighty Scope, iLoupe, Miruc, Carton, Technik and Accu-Tek.
A technology innovator since 1983, Aven is located in a high-tech corridor of Southeast Michigan
Contact: Mike Shahpurwala
Aven Inc.
4330 Varsity Drive
Ann Arbor, MI 48108
734-973-0099
More from Optics & Photonics