MIG Welding Systems come with power, feeder and gun.
Press Release Summary: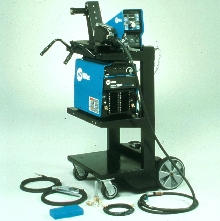 MIGRunner packages include power source, matching wire feeder and gun, running gear and accessories. Models include: CP-302 package with 22 A semi-automatic wire feeder and 300 A C-Series industrial gun; XMT 304 CC/CV Package with 5 to 400 A output inverter for MIG, flux cored, stick and TIG welding, air carbon arc cutting and gouging; and Invision 354MP Package for pulsed MIG welding with steel, stainless steel, aluminum and metal cored wires.
---
Original Press Release:
New Migrunner Packages Come Complete With Miller Power Source, Wire Feeder, Gun
APPLETON, Wis., Oct. 2001 - The new MIGRunner packages from Miller Electric Mfg. Co. enable customers to order a complete industrial MIG welding system with one stock number. Designed exclusively for the CP-302 three-phase power source and XMT`304 CC/CV and Invision 354MP DC inverters, each package includes a power source, matching wire feeder and gun, newly designed running gear and other accessories. "The MIGRunner packages simplify ordering, shipping and receiving, and set- up," says Don Keddell, segment manager, Miller Electric Mfg. Co. "Instead of piecing together the dozen components of a typical MIG system, customers order just one stock number and receive a complete system in one box. The MIGRunner then saves 2 to 2-1/2 hours of assembly time because it eliminates the need to install or assemble components such drive rolls, running gear, power cords and work clamps, as well as the need for lift equipment." For a simple, rugged MIG and flux cored welding system, select the CP-302 MIGRunner package. This three-phase power source has a top welding output of 390 amps (300 amps at 100 percent duty cycle), produces an excellent arc on mild steel, stainless and aluminum, and features a solid-state weld contactor for long life. It weighs 322 lb., but measures just 27.25 x 22.25 x 27 in. The CP-302 package includes a 22A semi-automatic wire feeder. The 22A is a lightweight, 24 VAC constant-speed unit that accommodates up to a 60 lb. spool of welding wire when using the optional wire reel assembly. It runs .023 to 5/64 in. wire at a speed of 75 to 750 IPM. The accompanying Roughneck® C-Series industrial gun has a rating of 300 amps at 100 percent duty cycle. It features a simplified design and parts that are interchangeable with all Roughneck models to reduce inventory costs. XMT 304 CC/CV Package When a multiprocess output, portability, compactness, flexibility and energy efficiency are your top priorities, choose the XMT 304 CC/CV MIGRunner package. The XMT inverter has a 5 to 400 amp output (300 amps at 60 percent duty cycle) for MIG, flux cored, Stick and DC TIG welding, as well as air carbon arc cutting and gouging. The XMT 304 weighs 76 lb., automatically links to the correct input power through its Auto-Link function, has one process control knob to simplify use, and incorporates Wind Tunnel Technology for reliability. It uses electricity with an average efficiency of 85 percent, potentially lowering utility bills by hundreds of dollars. This package comes complete with a 22A wire feeder and Roughneck C-Series gun. Invision 354MP Package Designed for pulsed MIG welding, the Invision 354 MP incorporates built-in pulsing controls for greater simplicity, ease-of-use and reliability. It eliminates the need for add-on pendants or programmable feeders. Using a single push button and a large setup screen on the Invision 354MP's front panel, operators can select from 15 welding programs, including those for pulsing with steel, stainless steel, aluminum and metal cored wires. The power source weighs 76 lb. and has a 5 to 400 amp output (300 amps at 60 percent duty cycle). The Invision 354MP MIGRunner package comes complete with the Roughneck C-Series gun and the 714D wire feeder. The 714D provides the benefits of a full-featured wire feeder with microprocessor capabilities at one-third the cost. Features include an adjustable weld sequence control, the ability to store and recall four sets of customized weld parameters and weld parameter range limiting. The 714D has a wire speed of 50 to 780 IPM and runs .023 to 1/8 in. diameter wires. These MIGRunner packages are air-cooled standard, but water coolers can be added for applications that involve running larger diameter wires at higher amperages and duty cycles. The power sources and wire feeders in these MIGRunner packages are covered by Miller's True Blue® 3 year factory warranty. To purchase these MIGRunner packages on-line or to download product spec sheets, visit Miller's website at www.MillerWelds.com. Only Miller combines the convenience of on-line shopping with the expertise of a local distributor for sales and service. Headquartered in Appleton, Wis., Miller is a leading worldwide manufacturer of arc welding equipment and related systems for metalworking, construction, maintenance and other applications. Miller Electric Mfg. Co. is a wholly-owned subsidiary of Illinois Tool Works Inc. (ITW), Glenview, Ill. ITW is a diversified multinational manufacturer of highly-engineered components, assemblies and systems.