MIG Welding System simplifies aluminum auto body repairs.
Press Release Summary: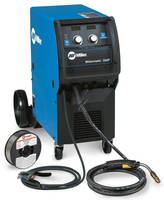 Supplied with all equipment needed to make repairs on aluminum auto body panels and beds, Millermatic® 350P addresses challenges posed by welding thin gauge aluminum. Turnkey system provides 300 A output at 60% duty cycle, with low-end Pulse MIG programs dedicated for aluminum welding, and 75 ipm low-end wire feed speed capabilities that lessen heat input to reduce burn-through and warping. Product can also be used to pulse weld with silicon bronze, steel, and stainless steel wires.
---
Original Press Release:

Miller Launches Optimized Welding System to Simplify Aluminum Auto Body Repairs



The new Millermatic® 350P auto body aluminum repair system provides all the equipment, from the power source to the gun and wire, to make quality aluminum auto body repairs.



APPLETON, Wis. — Miller Electric Mfg. Co. has introduced the new Millermatic® 350P auto body aluminum repair system — a complete welding package designed to provide high weld quality and simplify repairs on aluminum auto body panels and beds, such as found in the 2015 Ford F-150 truck. This turnkey solution addresses the growing trend of aluminum usage in the automotive market and has been designed specifically to address the challenges posed by welding thin gauge aluminum, such as warping, distortion and burn-through. It builds on the trusted performance of the popular Miller® Millermatic 350P MIG power source and can also be used to Pulse weld with silicon bronze, steel and stainless steel wires.



By providing all the components needed for making aluminum auto body in a single optimized package, Miller has helped to simplify the process of aluminum welding, particularly for welding operators who may not be as familiar with this material or the challenges it can pose.



The Millermatic 350P auto body aluminum repair system features the components necessary to meet the specifications set forth by Ford and the Assurance Performance Network for completing weld repairs on the Ford F-150 aluminum-body truck. These specifications require a 220V power source with Pulsed MIG capabilities dedicated to aluminum welding, using .047 inch (1.2mm) 5554 series aluminum alloy wire.



The Miller package includes:

• Millermatic 350P, a 200/230/460V power source for single- or three-phase power.



• 8-inch spool of .047-inch (1.2 mm) diameter Hobart® 5554 aluminum wire for superior weld quality.



• Bernard™ Q200 aluminum MIG gun, customized with a 12-foot-long cable, plastic liner and a 30-degree head tube for superior aluminum wire delivery.



• .047-inch (1.2 mm) aluminum Centerfire™ Contact Tips for consistent electrical conductivity and arc starting.



• .047-inch (1.2 mm) U-groove drive rolls for improved aluminum wire feeding.



The Millermatic system provides 300-amp output at 60 percent duty cycle, with improved low-end Pulse MIG programs dedicated for aluminum welding. The low-end wire feed speed capabilities have been reduced from 105 inches per minute (IPM) to 75 IPM, resulting in less heat input to reduce burn-through and warping when welding on aluminum auto body panels.

As with the standard Millermatic 350P MIG power source, the new Millermatic 350P auto body aluminum repair system offers an aluminum Pulse Hot Start™ that automatically provides more power to eliminate "cold starts" inherent with welding this material. The system features line voltage compensation that provides constant output even in the presence of fluctuations in input power. A Fan-On-Demand™ cooling system operates only when needed to cool the power source, reducing power consumption and minimizing the opportunity for contaminants to be drawn into the machine.



About Miller

Miller Electric Mfg. Co., headquartered in Appleton, Wisconsin, is a leading worldwide manufacturer of Miller brand arc welding products and is a wholly owned subsidiary of Illinois Tool Works Inc. (NYSE: ITW). For more information, visit www.MillerWelds.com, call 1-800-4-A-Miller (800-426-4553), email info@millerwelds.com, fax 877-327-8132, or write to Miller Electric Mfg. Co., P.O. Box 100, Lithonia, GA 30058.



Contact:

Monica DeBrot

Two Rivers Marketing

515-557-2068

monicad@2rm.com

More from Fluid & Gas Flow Equipment