MIG Welding System features weld monitoring software.
Press Release Summary: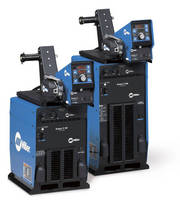 Axcess® E with Insight(TM) MIG welding system includes fully integrated data monitoring capability within the power source. System monitors each weld according to preset parameter limits, allowing user to detect missed weld, under-weld, and over-weld. Configurable software notifies user if weld has not met expectations for current, voltage, wire feed speed, gas flow, or duration. Insight Reporter(TM) provides critical data on cost, productivity, and quality to drive process improvement.
---
Original Press Release:

Miller Introduces New Axcess E with Insight(TM) Welding Monitoring System



Miller's new Axcess® E with Insight(TM) integrates advanced weld monitoring software into a proven multi-MIG welding system for a wide range of manufacturing applications.

APPLETON, Wis. - Miller Electric Mfg. Co. of Appleton, Wis. introduced the new Axcess® E with Insight(TM), an advanced MIG welding system that includes fully integrated data monitoring capability within the power source. The Insight weld process management system is embedded into the Axcess® E multi- MIG welding platform to enhance productivity and quality by providing valuable information to operators, supervisors, welding engineers, production managers, quality managers, maintenance professionals and manufacturing management.

The Axcess E with Insight utilizes its exclusive Part Tracking(TM) feature to monitor the fabrication of each part on a weld-by-weld basis. This provides a higher level of value than any other data monitoring system available. The key benefits of the Axcess E with Insight are:

o Reduction in mistakes: Axcess E with Insight monitors each weld in accordance to preset parameter limits, facilitating the detection of missed welds, under-welding, over-welding and more.
o Identifies potential defects: The Insight software can be configured to notify the operator or management if a weld has not met the expectations for current, voltage, wire feed speed, gas flow or duration.
o Provides important data on cost, productivity and quality: Miller's exclusive Insight Reporter(TM) provides critical information that helps management make informed decisions that drive continuous operational improvement.

Axcess E with Insight uses Ethernet technology and the factory network system to not only interface with each welding system, but also efficiently transfer critical data to those people who can benefit from it most. Interfacing is accomplished using a web-based application that can be accessed via any compliant browser. Any machine in the fleet can be accessed from virtually anywhere in the world. Critical machine functions and settings can be monitored and adjusted by any manager with local or remote access to the factory network. Welding professionals can monitor command values and actual welding results, as well as perform diagnostic functions and make any necessary changes to the system set-up.

Insight Centerpoint(TM) is a feature-rich graphical user interface that provides the user with easy access to all welding data and monitoring settings. Insight Centerpoint is highly flexible and customizable, so it can easily be tailored to specific monitoring requirements and preferences. The system features a powerful operator HMI that can be used to guide them through the production of a weldment in a step-by-step fashion. It even counts welds to help ensure that no welds are missed.

Insight Centerpoint monitors each weld for the proper current, voltage, wire feed speed, gas flow (optional), and duration and alerts the operator if any of the preset limits are violated. A wealth of other information is also available via Insight Centerpoint, including: totalization of gas and wire used, totalization of parts, welds, faults, weld cell downtime, and overall equipment effectiveness (OEE). The system also can provide a Weld Signature(TM) for each weld, as well as the ability to attach annotations to welds that fall outside of pre-determined limits. If desired, Insight Centerpoint can even be configured to disable the welding torch when certain faults are detected.

At a management level, Insight Centerpoint allows production and plant managers to review operator performance, manage parts and costs, as well as troubleshoot issues such as why a welding cell is experiencing downtime or why potentially faulty welds are being produced.

Insight Reporter(TM) is an optional management reporting feature that allows for data from the networked fleet of Axcess E units to flow into a SQL database for analysis purposes. This easy-to-use PC application provides a library of preconfigured reports focused on operating, quality and productivity data. These reports can provide critical information for an entire manufacturing facility and can be used to improve operational efficiencies and measure performance trends.

Even with the high customization capabilities, the Axcess E with Insight is intuitive. The web interfaces and graphical reports are easy to follow. An electronic training module is also available to provide effective - point-of-use training to users of the Insight Centerpoint application. The system can be deployed in various configurations based on the factory needs. For instance, Insight Centerpoint can be set up to track one or multiple units, or the Axcess E with Insight can function as a standalone non-networked unit.

The Axcess E is based on Miller Electric's proven Axcess industrial multi-MIG power source platform. This inverter-based system provides a host of Miller exclusives, including the innovative Accu-Pulse(TM) welding process, Auto-Line(TM), Fan-On-Demand(TM), Wind Tunnel(TM) design, Sure Start(TM) and more.

Axcess E comes standard with Insight i100. Additional functionality is available with optional upgrades to Insight i1000 and i2000. Current standard Axcess owners can leverage their investment by converting their systems via an Axcess E field upgrade kit, which will add the power of Insight monitoring capabilities to their existing Axcess power source.

About Miller
Miller Electric Mfg. Co., headquartered in Appleton, Wis., is a leading worldwide manufacturer of Miller brand arc welding equipment and is a wholly owned subsidiary of Illinois Tool Works Inc. (NYSE: ITW).

For more information, visit Miller's Web site at www.MillerWelds.com, call 1-800-4-A-Miller (800-426-4553), email info@millerwelds.com, fax 877-327-8132, or write to Miller Electric Mfg. Co., P.O. Box 100, Lithonia, GA 30058.

More from Computer Hardware & Peripherals