MIG Welding System features modular, adaptable design.
Press Release Summary: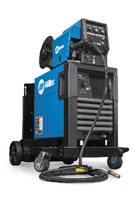 Designed for semi-automatic welding, Continuum™ 500 provides 500 A of welding power at 100% duty cycle. System features smart digital design that delivers stable arc performance. Accu-Pulse™, MIG, Regulated Metal Deposition, and high-deposition MIG welding capabilities ensure consistent arc starts, as well as arc and weld puddle control with minimized spatter. Using remote connection, operator can view and adjust machine parameters from virtually anywhere via Internet-enabled device.
---
Original Press Release:

New Continuum(TM) Advanced MIG Welding System Offers Improved Arc Performance, Ease of Use and System Modularity to Increase Productivity



Welding system designed for current and future welding needs provides exceptional arc control in an easy to use, modular package



APPLETON, Wis. — Miller Electric Mfg. Co.  has introduced the latest advanced industrial MIG welding system — the Continuum™ 500. Building on the proven performance of legacy Miller Axcess® machines, the Continuum 500 system provides improved arc starts and more-stable arc performance, generating better results from welding operators of all skill levels when welding on either thin or thick metals. User-friendly controls and system modularity make the new system more capable of managing challenging jobs to help improve productivity and provide a competitive advantage as fabrication and manufacturing needs evolve. The system provides 500 amps of welding power at 100 percent duty cycle.



The Continuum 500 system is designed for semi-automatic welding and features an all-new smart, powerful and fast-responding digital design that delivers exceptionally stable arc performance for better welding results. Developed as a platform to meet current and future welding needs, the Continuum 500 offers improved Accu-Pulse™, MIG, Regulated Metal Deposition (RMD®) and new high-deposition MIG welding capabilities, resulting in benefits such as more consistent arc starts, greater arc and weld puddle control (even for welding operators of varying skills), reduced spatter and higher weld quality — all factors that lead to better overall productivity. The improved arc performance provided by the Accu-Pulse process allows for faster travel speeds to increase productivity further and reduce heat input that could lead to distortion, while the MIG and RMD improvements both provide reduced heat input and a more forgiving arc to make it easier to manage varying torch angles and designs. The high-deposition MIG function offers a lower heat input than a standard spray transfer, while still providing as much as 33 percent more deposition when welding thicker material and larger welds (6 to 8 mm).



An intuitive interface makes the Continuum 500 simple to set up and adjust with minimal training. A LCD display shows complete words, graphics and numeric values, while memory buttons allow weld operators to change programs quickly and easily. A remote connection provides easy viewing and adjustment of the machine parameters from virtually anywhere in the world via Internet-enabled devices (computer, tablet or Smartphone). The Continuum 500 also allows for easy updating of firmware, viewing of diagnostics and provides USB functionality to save and update the machine's settings for a specific operator or job, or to manage fleet configurations.



The modular design of the Continuum 500 makes the system adaptable to a variety of weld cell configurations and requirements. The system also features a control interface that can be located where it is most convenient, including on the power source, on the feeder or on the remote operator interface (ROI).



The all-new feeder design, which features balance-pressure drive-rolls and tensioners to feed wire in true, straight manner, can be easily configured for standard spool sizes, 60-pound spools or bulk-feeding systems.



About Miller

Miller Electric Mfg. Co., headquartered in Appleton, Wisconsin, is a leading worldwide manufacturer of Miller brand arc welding products and is a wholly owned subsidiary of Illinois Tool Works Inc. (NYSE: ITW). For more information, visit www.MillerWelds.com, call 1-800-4-A-Miller (800-426-4553), email info@millerwelds.com, fax 877-327-8132, or write to Miller Electric Mfg. Co., P.O. Box 100, Lithonia, GA 30058.

More from Materials