MIG Gun combines ergonomics and operational flexibility.
Press Release Summary: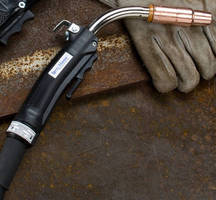 Ergonomically designed for comfort during use, Spray Master(TM) features duty cycle of 80% with Argon mixed gases and rotatable conductor tube with articulating head that helps lock gun angle for certain positions. Extended trigger life, with its blade-style design, creates electrical contact by sliding over each other in self-cleaning action to avoid arcing and bonding of contact surfaces. Gun can also accommodate Knucklehead(TM) flexible conductor tube.
---
Original Press Release:

Tweco's Spray Master(TM) Built on the Success of the No. 4 MIG Gun



St. Louis, MO (February 23, 2009) - Tweco, the leading innovator in MIG gun technologies, as well as leader in the production of electrode holders, ground clamps, lugs, MIG guns and MIG consumables has built on the success of the No. 4 MIG gun, by introducing the Spray MasterTM.

In 1969, at an industry trade show, Tweco introduced its No. 4 MIG gun, which would become the industry standard for MIG welding guns as we know it today. Its Number 4 gun continues to be one of the industry's most popular products.

Previously, all other MIG guns were bulky with separate liners, power cables, gas hoses and trigger leads. Tweco developed the first coaxial Cablehoz, which incorporated all of these functions into one cable, and greatly simplified the welding operation. The MIG gun design also incorporated an adaptability feature enabling the gun to fit a wide variety of power supplies. It offered several optional components to enhance its flexibility, and was easy to repair.

"Tweco's No. 4 MIG gun has been a continuous best seller for many years but we felt that there was a market for a variation of its technology," said David Wilton, Vice President, Global Welding Products. "We felt that welders would be receptive to a more comfortable feel and a higher duty cycle rating from their guns."

As an option, Tweco developed the Spray MasterTM MIG gun with a nod to the future. It is smaller and lighter than the Number 4, with an ergonomically designed platform that is more comfortable to hold. The Spray MasterTM was also designed to improve operator comfort by providing a rotate able conductor tube with an articulating head which helps to lock the gun angle for certain positions. This also makes it easier to reach different joint configurations and tight joints.

The Spray MasterTM series has a higher-duty cycle than comparable MIG guns in its class with heavy duty nozzles & diffusers. With a duty cycle of 80% with Argon mixed gases, this is nearly 33% higher than the industry standard, which guarantees ultimate performance in the most extreme welding applications.

Furthermore, its longer trigger life with its blade-style design creates electrical contact by sliding over each other in a sort of "self-cleaning" action as compared to micro-switch designs that could potentially cause arcing and bonding of contact surfaces.

To enhance the functionality of MIG guns, Tweco introduced the KnuckleheadTM flexible conductor tube in 2007. The KnuckleheadTM enables users to virtually infinite adjustments and increases productivity by eliminating downtime from the need to change conductor tubes for different welding positions. It features a patent-pending mechanical ball & socket design and lasts 10 times longer than competitive braided copper products. The Knucklehead can be used on a Spray Master to increase its repertoire of welding capabilities.

"Although welders can sometimes be resistant to trying new products, the SprayMaster's affiliation with the No.4 gun has broken down those barriers in its introduction," said Don Gatewood, District Business Manager, West Sales Region. "Many of our customers are buying both guns so that their welders have a choice. They know both guns offer great performance, especially with the added flexibility in combination with the Knucklehead."

Tweco is an industry leader in the production of electrode holders, ground clamps, lugs, carbons, MIG guns (having sold more than two million) and MIG consumables. In 2006, Tweco surpassed the $100 million milestone of sales to distributors.

About Thermadyne Industries

Thermadyne Industries, Inc. is owned by Thermadyne Holdings Corporation. Thermadyne Holdings is headquartered in St. Louis, Missouri, is a leading global manufacturer and marketer of metal cutting and welding products and accessories under a variety of leading premium brand names including Victor®, Tweco®, Arcair®, Thermal Dynamics®, Thermal Arc®, Stoody®, Turbo Torch®, Firepower® and Cigweld®. Its common shares trade under the symbol THMD. For more information about Thermadyne, its products and services, visit the company's web site at www.Thermadyne.com.

More from Cleaning Products & Equipment