Midland-ACS Compact Filter Regulator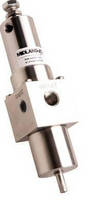 As part of their continual program of assessment and response to market and customer need, UK based manufacturer Midland-ACS has developed and expanded their range of filter regulators to include a new compact, high flow version.

Constructed from 316 Stainless Steel for both hazardous area and industrial use, the ¼" self-relieving filter regulator provides an easy installation, repair and replacement unit for FPSO´s, onshore and offshore facilities, to floating and fixed production installations. Offering a 25 Micron element and manual drain, the flow paths have been designed and engineered to minimise pressure drop across the valves operational range.

Related