Mid-Volume Sorter handles up to 15 metric tons/hr.
Press Release Summary: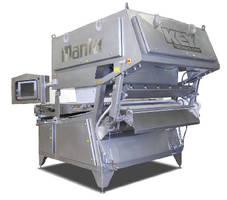 Featuring 1,520 mm wide scan area and up to 7 cameras and 2 lasers, Manta 1600 is suited for vegetable and fruit production lines. Using color and/or Vis/IR cameras, system recognizes each object's size and shape as well as millions of subtle color differences to remove defects based on user-defined reject standards. System can be equipped with FMAlert(TM) quality monitoring capability, which enables it to capture and save digital image of every object defined as foreign material.
---
Original Press Release:

Key Technology Introduces Manta® 1600 Sorter



September 29, 2009 - Key Technology introduces Manta® 1600, a new family of high performance, mid-volume sorters. Featuring a 1520-mm wide scan area and up to seven cameras and two lasers, Manta 1600 sorts as much as 15 metric tons of product per hour to perfectly match the requirements of most processed vegetable, potato, and fruit production lines. With 0.5-mm camera resolution, the Manta 1600 sets a new standard in its class and, combined with object-based sorting, performs at levels that no other sorter can match today.

Incorporating innovative design features that Key first introduced in 2008 with its two-meter wide high-volume Manta 2000 sorter, the new smaller Manta 1600 was developed for the many mid-volume customers in Key's core markets. To meet the specific needs of each application, Key can configure Manta 1600 to include a combination of cameras and lasers for on-belt and off-belt in-air viewing.

Extreme modularity allows Manta 1600 to be easily reconfigured in the field, which enables processors to confidently select a camera/laser arrangement today knowing that the sorting system can grow if their needs change.

Using color and/or Vis/IR cameras, Manta 1600 recognizes each object's size and shape as well as millions of subtle color differences to remove defects based on user-defined reject standards. Raptor lasers detect foreign material (FM) based on differences in the structural properties of the objects while FluoRaptor reliably detects foreign material (FM) based on differing levels of chlorophyll. Combining cameras and lasers on one platform achieves the most comprehensive sort available in the market.

With its mid-volume capacity, Manta 1600 perfectly complements the other camera/laser combination sorters from Key. While the Manta 2000 sorts up to and beyond 20 metric tons of product an hour and Key's Optyx® 6000 handles up to 10 metric tons, the 15 metric tons handled by Manta 1600 is ideal for a majority of processors. Key's Tegra® in-air sorter also processes up to 15 metric tons and is suitable for many applications where the shadow of the product on the belt requires full in-air sorting. Optyx 3000 is the smallest sorter offered by Key and is ideal for lower capacity requirements.

Like all of Key's G6-enabled optical sorters, Manta 1600 can be equipped with FMAlert(TM), an enhanced quality monitoring capability that improves the tracking and control of foreign material (FM). FMAlert enables the sorter to capture and save a digital image of every object defined as FM. Armed with these images, processors can quickly identify critical quality problems and take corrective action to maximize product quality and food safety.

The new Manta 1600 can be configured with two independently driven ejector banks to achieve three outputs. This option allows processors to produce a higher quality product without losing valuable product to the waste stream or requiring additional sorting for rework product. With three-way sorting, processors can remove foreign material and critical defects with the first ejector bank, sending to waste, without re-sorting or losing valuable yield. Off-grade and quality defects can be ejected at the second position and re-routed for rework, while the pass stream accepts only good product that matches specifications.

Manta maximizes sanitation with few horizontal surfaces where debris can build up and no overlapping surfaces that can trap bacteria. With its stainless steel construction, IP65-rated electrical components, watertight double-gaskets on doors, and a sealed control panel, Manta is designed to operate reliably in the harshest environments and easily withstand high-pressure washdowns.

To ease maintenance, Manta features an open design and large cabinet doors that provide greater access to the sorter's electronics and hardware. Quick release components allow Manta's belt to be changed quickly and easily. Real-time and on-demand diagnostics help avoid costly downtime and detect conditions that could compromise inspection.

The icon-based graphical user interface (GUI) displayed via touchscreen, is easy to learn and use, reducing operator training and simplifying optimum operation. Product settings can be stored and retrieved for fast product changeover. The GUI can reside locally and can be accessed remotely via its OPC-compliant infrastructure, enhancing the flexibility of the operating environment and easing access for remote factory troubleshooting and application assistance.

For more information, visit: www.key.net/products/manta.

About Key Technology, Inc.

Key Technology, an ISO-9001 certified company, is a leading designer and manufacturer of process automation systems, integrated electro-optical inspection and sorting systems, and processing systems. Key® systems help processors to improve quality, increase yield, and reduce cost. With worldwide sales representation, the company maintains demonstration and testing facilities at its headquarters and manufacturing divisions in Walla Walla, Washington, USA, and at Key Technology BV in Beusichem, the Netherlands. The company's common stock trades on the Global Market tier of The NASDAQ Stock MarketSM under the symbol: KTEC.

Reader Inquiries To:

Anita Funk, Corporate Communications Manager

Key Technology, Inc.

150 Avery Street

Walla Walla, WA 99362 USA

Tel: 509 529 2161

Fax: 509 527 1331

Email: afunk@key.net

URL: www.key.net

More from Fluid & Gas Flow Equipment