Mid-Power LEDs suit light bar and bulb retrofits.
Press Release Summary: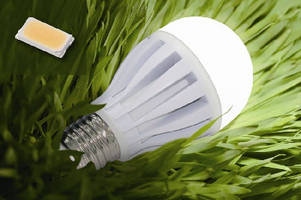 Supplied in standard 5630 package, Series 62-217D includes 0.5 W version for 40/60 W bulb retrofits and 0.2 W version for light bars. Both white top-view LEDs are available across complete ANSI CCT range of 2,700–6,500 K. Units offer minimum CRI of 80Ra and lumen output of 50 lm (WW) and 55 lm (CW). Cool white 0.5 W version is available up to 9,000 K CCT and achieves efficiency of 115 lm/W at 5,700 K. Measuring 5.6 x 3.0 x 0.65 mm, LEDs are Pb-free and RoHS-compliant.
---
Original Press Release:

Everlight Expands 5630 Mid-Power LED Portfolio for Light Bar and Bulb Retrofits



Excellent cost/performance ratio due to high package manufacturing capacity



Shulin, New Taipei City -- EVERLIGHT ELECTRONICS CO., LTD. [TSE:2393], a leading player in the global LED industry with three decades of experience in optoelectronics, introduces the ultra-thin 5630D mid power LED series (part number 62-217D) especially suited for LED light bars, standard and omni-directional LED light bulbs and LED high power bulbs.



Everlight's 62-217D is a standard 5630 package in a 0.5W (150mA) version for 40/60W bulb retrofits and a 0.2W (60mA) version that is suited for light bars. Both white top-view LEDs are compact and ultra-thin (5.6*3.0*0.65 mm LxWxH) and available across a complete ANSI CCT range of 2700K (warm white) to 6500K (cool white). These mid-power LEDs offer a CRI of min. 80Ra and a lumens output of 50lm (WW) and 55lm (CW). The cool white 0.5W version is offered up to 9000K CCT and achieves an efficiency of 115lm/W at 5700K.



The lighting industry is highly dependent on high cost versus performance packages with excellent performance, stable reliability, and dependable lead times. Everlight transferred its decades of production expertise and cost competitiveness in SMD LED manufacturing for consumer handheld products to its low to mid power Lighting LED products and developed the 62-217D (5630D) package - now a champion of all these characteristics mentioned above.



Everlight's 62-217D (5630D) LED has a capacity of more than 200 million pieces per month. This high capacity and throughput allow for strong cost competitiveness, consistent availability and short lead times. The 62-217D (5630D) series is Pb-free, RoHS compliant, matches ANSI binning and is currently undergoing LM80 testing to demonstrate its stable lumen maintenance (already tested successfully to 3,000 hours).



Sample Available: Yes. (Upon request)

Mass Production: Now



More information or data sheet for this product upon request: Please contact your local Everlight sales office. Local sales information: www.everlight.com.



The Right LED for the Right Application

A dedicated application-based marketing approach supports the idea that every application is to be paired with "The Right LED" to provide the best performance and quality. Everlight has one of the largest lighting LED portfolios in the industry, ranging from 0.06W to 25W and from 3.0x2.0mm to 20x24mm packages, and can thus cater to every need. Based on the same foundation, every package design presents its own advantages in certain applications.



Everlight is fostering close relationships between their R&D, Sales and Marketing teams to meet and exceed their customers' expectations in both product offering and technology. Everlight provides a great variety of customers with total solutions for their different applications and is incessantly committed to satisfy the strongly growing global market for LED solutions.



About Everlight Electronics Co. Ltd.

Everlight Electronics Co., Ltd. was founded in 1983 in Taipei, Taiwan. Playing a critical role in the formation of the global LED industry, the company is rapidly ascending to become a leading supplier due to its dedication to certification, R&D, production, quality, marketing and global customer service. Everlight  provides a diverse product portfolio consisting of high power LEDs, lamps, SMD LEDs, LED lighting modules, digital displays, optocouplers and infrared components for various applications. Today, Everlight is a global company with over 6,400 employees based in China, Hong Kong, Japan, Korea, Singapore, Malaysia, Germany, Sweden, U.S., and Canada. Please visit us at www.everlight.com



Company PR contact: pr@everlight.com

More from Optics & Photonics