MicroXAM-800 Optical Profiler is suitable for production applications.
Press Release Summary: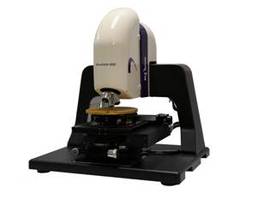 MicroXAM-800 Optical Profiler uses coherence scanning interference microscopy principle. Unit is used in applications that require precise step height and surface roughness measurements. Profiler comes with programmable stages, customizable recipe set-up, scripting and expandable library of analysis tools.
---
Original Press Release:
Nanoscience Instruments Expands its Portfolio with KLA-Tencor
MicroXAM-800: Optical Surface Profiler for 3D Measurement of Surface Topography.
Nanoscience Instruments is proud to partner with KLA-Tencor to offer the MicroXAM-800 optical profiler a white light interferometer. For more than 15 years, Nanoscience Instruments has provided advanced instrumentation and applications consulting for microscopy and surface analysis techniques.
For more than 40 years, KLA-Tencor has been a leader in innovative optics, sensors, and high performing computing technologies in process control. Their inspection, metrology and data analytics tools are used for R&D and manufacturing process control. The KLA-Tencor series of benchtop stylus and optical surface profilers aligns with Nanoscience Instruments' offerings of surface metrology, microscopy, mechanical testing and research and development manufacturing tools.
"The partnership with KLA-Tencor allows our application scientists to provide additional application specific support in a variety of research disciplines. The MicroXAM-800 surface profiler expands our surface metrology offerings to provide a more complete catalog of products for any application," said Mark Flowers, co-owner Nanoscience Instruments.
About the MicroXAM-800
The MicroXAM-800 is an optical surface profiler from KLA-Tencor's surface metrology product line. Using the principles of coherence scanning interference microscopy (CSI), also known as white light interferometry (WLI), the MicroXAM-800 profiler includes hardware and software features necessary to meet stringent R&D and production environment requirements. "The programmable stages, customizable recipe set-up, scripting and expandable library of analysis tools, are a few of the highlighted features of the tool," said Sebastian Kossak, co-owner of Nanoscience Instruments.
The MicroXAM-800 optical surface profiler supports applications involving highly precise step height and surface roughness measurements in R&D and production applications. For more information about the MicroXAM-800 profiler, please visit the product webpage https://www.kla-tencor.com/Surface-Profiling/microxam-800.html.
About Nanoscience Instruments
For 15 years, Nanoscience Instruments has delivered a wide variety of analytical solutions to academia and industry. Nanoscience Instruments specializes in surface science and nanoscale microscopy instrumentation, including benchtop SEMs, SEM and TEM , portable AFMs & STMs, optical metrology, micro and nano-manipulation systems, electrospinning and electrospraying equipment, as well as consumables and accessories for these instruments. More information is available from the Nanoscience Instruments website: https://www.nanoscience.com/.
More from Electrical Equipment & Systems