Microwave System provides tissue embedding in specimens.
Press Release Summary: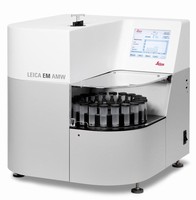 Leica EM AMW is combination of monomode microwave chamber and automatic reagent changer that minimizes manual effort and time from specimen dehydration to polymerization. It automatically guides reagents into chamber that contains specimens, bringing them into contact with correct fluid, and allows user to configure up to 99 programs and define unlimited number of temperature curves. Software-controlled, non-contact infrared sensor controls and monitors temperature.
---
Original Press Release:

First Automated Microwave System for Tissue Embedding



VIENNA, AUSTRIA. With its new Leica EM AMW, Leica introduces an unprecedented microwave system for electron microscopy that automatically dehydrates, infiltrates, and polymerizes specimens in resin. This makes the time to prepare specimens a matter of hours instead of days, which frees up valuable time for more important tasks. Leica's automated, patented technology for tissue embedding allows results to be reproduced at any time and documented seamlessly.

Patented technology
Leica's patented combination of microwave chamber and automatic reagent changer minimizes the manual effort and the time from specimen dehydration to polymerization. Users can dedicate the time saved to other tasks, and laboratory workflow can be significantly streamlined. The Leica EM AMW automatically guides the reagents into the microwave chamber that contains the specimens and brings the specimens into contact with the correct fluid for a defined time and defined temperature.

Uniform distribution of energy
The one-of-a-kind monomode microwave chamber of the Leica EM AMW focuses the energy on a defined area. This results in a uniform microwave field and uniform action on specimen and reagent - without hot or cold points, and without the need for additional water loads. Another benefit of monomode technology is its high energy density. It attains vastly greater efficiency than a conventional multimode chamber, even with lower quantities of energy. Depending on the specimen, the user can select either continuous or pulsed microwave power.

Safe, non-contact temperature monitoring
Because temperature is one of the most important process parameters, Leica Microsystems has equipped the new instrument with a software-controlled, non-contact infrared sensor. It controls and monitors the temperature, thus also ensuring maximum specimen safety.

Intuitive programming and easy reproduction of results
The mouse-controlled 6.5" monitor and intuitively operated software make programming as easy as clicking a mouse. The user can configure up to 99 programs and define an unlimited number of temperature curves. Thus the Leica EM AMW not only is an extremely versatile instrument, it also provides reproducible results at any time and documents all data.

Leica Microsystems is a leading global designer and producer of innovative, high-tech, precision optical systems for the analysis of microstructures as well as the only source to offer instruments for the entire histopathology process and the NovocastraTM range of antibodies and reagents. Leica Microsystems is one of the market leaders in each of its business areas: Microscopy, Confocal Laser Scanning Microscopy with corresponding Imaging Systems, Specimen Preparation, Medical Equipment, and Antibodies and Reagents. The company manufactures a broad range of products for numerous applications requiring microscopic imaging, measurement, and analysis. It also offers system solutions for life science including biotechnology and medicine, research and development of raw materials, and industrial quality assurance. The company is represented in over 100 countries with 9 manufacturing facilities in 7 countries, sales and service organizations in 20 countries and an international network of dealers. The international management is headquartered in Wetzlar, Germany.

More from Printing & Duplicating Equipment