Microwave Chip Capacitors offer long-term stability.
Press Release Summary: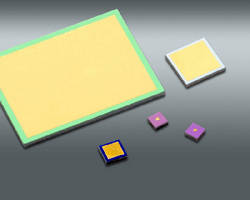 Consisting of Oxide/Nitride layer, Series 8000 offers working voltage >50 V and capacitance from 2.0–600 pF, while Series 8100 offers working voltage of more than 100 V and capacitance from 0.1–399 pF. Gold contacts are provided on front and back, and die thinness of as little as 3 mils is achievable for limiting inductance. Devices are suited for applications that require DC protection, RF bypassing, or fixed tuning, such as RF amplifiers, oscillators, switches, filters, and multipliers.
---
Original Press Release:

Chip Capacitors Now Available from SemiGen's RF Supply Center



Manchester, NH –  SemiGen, Inc. (www.semigen.net), an ISO and ITAR registered RF/Microwave assembly, automated PCB manufacturing, and RF Supply Center, has announced that a series of microwave chip capacitors are now available from their RF Supply Center. Series 8000 capacitors offer a working voltage of >50V and capacitance ranges from 2.0 pF to 600 pF. Series 8100 capacitors offer a working voltage of >100V and capacitance ranges from 0.1 pF to 399 pF. They are made with prime starting material and consist of an Oxide/Nitride layer that provides low dielectric loss and high standoff voltage. They feature very high Q, low temperature coefficients, low dissipation factors, and long term stability. Gold contacts are provided on front and back, and die thinness of as little as 3 mils is achievable for limiting inductance. Uses for these high performance microwave capacitors include applications that require DC protection, RF bypassing or fixed tuning, such as in RF amplifiers, oscillators, switches, filters and multipliers.



These products are available in chip form only. To order and to learn more, visit: www.semigen.net



About SemiGen, Inc.

Established in 2009, SemiGen is a contract manufacturing and supply resource for RF/Microwave and PCB related industries. Services include RF hybrid assembly, semiconductor die packaging, automated PCB manufacturing and testing. They're also a fully stocked provider of RF/Microwave bonding supplies and critical diodes and components. Partnering with SemiGen allows component and subsystem suppliers opportunities to reduce manufacturing costs and meet challenging deadlines. Serving the military electronics, commercial device, and medical instrumentation markets, their production line and test department is capable of handling prototype through high volume requirements up through 40 GHz. For more details, visit www.semigen.net



Company Contact:

Jim Morgan

SemiGen, Inc.

jmorgan@semigen.net

603-624-8311