MicroTCA Products help create small form factor solutions.
Press Release Summary: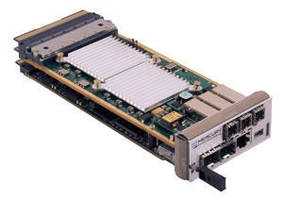 Ensemble(TM) MCH2020 MicroTCA Carrier Hub provides control and switching infrastructure for MicroTCA system configurations, with single-module support for 3 system fabrics: Gigabit Ethernet base interface, RapidIO® switch fabric, and intelligent platform management interface. 4U, 19 in. rack-mountable MicroTCA chassis with 12 AMC slots and 2 switch/hub slots, supports high-bandwidth backplane communications with dual-star RapidIO topology.
---
Original Press Release:

Mercury Computer Systems Launches a New Generation of Ensemble MicroTCA Platform Solutions



Mercury extends its high-performance, small form factor solutions with the MCH2020 MicroTCA Carrier Hub (MCH) and chassis offering

TOKYO, Japan - January 19, 2009 - Mercury Computer Systems, Inc., a leading provider of high-performance, embedded computing solutions for image, sensor, and signal processing applications, announced availability of the Ensemble(TM) MCH2020 MicroTCA Carrier Hub and a 12-slot MicroTCA chassis- system components that can be combined with a wide range of current AdvancedMC mezzanine cards (AMCs) to create powerful, small form factor solutions.

"We are excited to be expanding our range of solutions in the fast-growing ATCA/MicroTCA market," said Mark Aslett, President and CEO of Mercury Computer Systems. "Customers in telecommunications and semiconductor manufacturing need to support very high data rates with consistent, low-latency processing power. Our Ensemble ATCA systems do that by combining the RapidIO switch fabric with a broad choice of processing elements. Now customers can use the same system architecture in a MicroTCA solution and achieve impressive levels of performance in a smaller, very cost-effective form factor."

The announcement was made in Tokyo, where Mercury has had significant success with its family of ATCA/MicroTCA products. "Mercury and our business partners are working together to help a number of Japanese customers address significant real-time computing challenges," said Ken Kimura, Representative Director of Nihon Mercury Computer Systems K. K. "These new MicroTCA platforms expand the range of technology options available to our combined solutions team."

The new Ensemble MCH2020 MicroTCA Carrier Hub provides the control and switching infrastructure for MicroTCA system configurations, with single-module support for three system fabrics: a Gigabit Ethernet base interface, a RapidIO® switch fabric, and an intelligent platform management interface (IPMI). The MCH2020 is the third-generation RapidIO switching module within the Ensemble product family, and it can be readily configured with any combination of Ensemble processing AMCs to create a high-performance, real-time system.

Robust system configurations can be built on the Ensemble MicroTCA Application Platform, a 4U, 19-inch rack-mountable MicroTCA chassis with 12 AMC slots and two switch/hub slots. This chassis supports high-bandwidth backplane communications with a dual-star RapidIO topology. Application developers can use this platform to combine extreme processing density with low-latency, deterministic communications.

For more information and availability on Mercury's comprehensive line of Ensemble solutions, visit mc.com/microtca, or contact Mercury at (866) 627-6951 or info@mc.com.

Pricing & Availability

U.S. volume pricing for the Ensemble MCH2020 MicroTCA Carrier Hub starts at $4,600. The MCH2020 is available for ordering now.

Mercury Computer Systems, Inc., 199 Riverneck Rd, Chelmsford, MA 01824 United States


More from Test & Measurement