MicroTCA Chassis passes MIL tests.
Press Release Summary: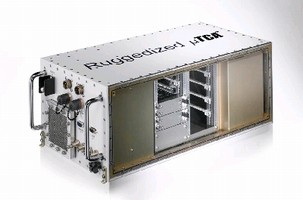 Suited for commercial and military aviation, ARINC 404A Full-Size ATR Long Enclosure features modified front panels that can be secured to chassis, optimizing protection for shock and vibration. Shock absorbers/dampers can also be added to enclosure for extra protection, and thermal management can be achieved via convection or conduction cooling. Testing shows chassis meets MIL-STD-810E shock/vibration requirements and MIL-STD-461 for electromagnetic interference.
---
Original Press Release:

New Ruggedized MicroTCA Chassis From Elma Passes MIL Tests



FREMONT, California, May 5, 2008 - Elma Electronic Inc., a global manufacturer of electronic packaging products, has announced a ruggedized ATR chassis for MicroTCA.

The new MicroTCA chassis is an ARINC 404A Full-Size ATR Long Enclosure, often used in commercial and military aviation. The rugged enclosure features modified front panels that can be secured to the chassis. This provides more protection for shock and vibration. Shock absorbers/dampers can also be added to the enclosure for extra protection. Thermal management can be achieved via either convection or conduction-cooling.

Testing shows the chassis meets the MIL-STD-810E shock/vibration requirements and MIL-STD-461 for electromagnetic interference. The vibration and shock tests were performed according to the IEC 61587 1 and VITA 47 standards in six axes (three spatial axes, with the system rotated by 180 degrees for each axis). A full 30-page test report is available upon request. The backplane holds six AMCs, one MCH (MicroTCA Carrier Hub), and one power module. Single modules slots in the full size are standard, but other configurations are possible with the enclosure's modular design. The compression-mount version of the signal connectors are used

The MicroTCA.1 and MicroTCA.2 specifications for Rugged MicroTCA(TM) are still in draft. Elma is offering the ruggedized MicroTCA ATR for early development/testing until these specifications are completed.

About Elma Electronic
Elma Electronic Inc. is a leading manufacturer and supplier of enclosures, backplanes, cabinets, cases, and "ready-to-run" packaging for ATCA, CPCI, MicroTCA, Rugged COTS, VME/64x, VXS, VPX, and custom bus structures. Elma operates three facilities in the continental United States plus has locations in Switzerland, China, Germany, France, the United Kingdom and Israel.

Elma Electronic Inc. is located at 44350 Grimmer Blvd., Fremont, CA 94538 USA. Phone (510) 656-3400 - Fax (510) 656-3783. www.elma.com

Contact: Justin Moll, Elma Electronic Inc.
510.656-3400 fax 510.656-3783 e-mail: justinm@elma.com

More from Material Processing