MicroTCA Chassis is offered in slim version.
Press Release Summary: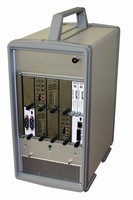 The 4U Type 32M MicroTCA Portable Tower features Star backplane with up to 6 AMCs, 1 MicroTCA carrier hub slot and power module slot. Backplane incorporates J-Tag switch module slot for diagnostics. Suited for use development chassis, it accommodates single or double width format modules in same backplane. Along with 5 temperature sensors, Type 32M also features EMC shielding, scratch-resistant vinyl clad aluminum covers, and cooling is achieved with 2 x 90 cfm fans.
---
Original Press Release:

Elma Offers Slim Version of MicroTCA Portable Chassis



FREMONT, California, Oct 05, 2007 - Elma Electronic Inc., a global manufacturer of electronic packaging products, has announced a new 4U wide MicroTCA Portable Tower. This is a slimmer and more compact version than the 6U wide unit announced early this year.

The 4U Type 32M MicroTCA Portable Tower features a Star backplane with up to 6 AMCs. The unit also features 1 MicroTCA Carrier Hub (MCH) slot and a Power Module slot. The backplane has a JSM (J-Tag Switch Module) slot, used for diagnostics. Ideal as a development chassis, the unit facilitates either single or double width format modules in the same backplane.

The Type 32M features advanced EMC shielding, scratch-resistant vinyl clad aluminum covers, and power components. Cooling is achieved with 2 x 90 CFM fans and the chassis has 5 temperature sensors throughout the unit. Elma has performed thermal simulations to ensure the optimal performance.

The wider 6U version Type 32M has a Dual Star topology with 2 MCH and 2 Power Modules. Elma also offers Subrack MicroTCA enclosures in 4U-8U heights and a 1U Pico-style MicroBox.

Lead-time for Elma's Type 32M MicroTCA Tower price is 6-8 weeks.

About Elma Electronic

Elma Electronic Inc. is a leading manufacturer and supplier of enclosures, backplanes, cabinets, cases, and "ready-to-run" packaging for CPCI, Rugged COTS, VME/64x, VXI, PC and custom bus structures. Elma's component product line offers a wide selection of top quality switches knobs and LED arrays. The company has been a worldwide supplier of dependable, high performance products for over 35 years. Elma operates three facilities in the continental United States plus has locations in Switzerland, Germany, France, the United Kingdom and Israel.

Elma Electronic Inc. is located at
44350 Grimmer Blvd.
Fremont, CA
94538 USA.
Telephone (510) 656-3400
Fax (510) 656-3783.
www.elma.com

Company Contact:
Justin Moll
Elma Electronic
510.656.3400
510.656.3783 fax
e-mail: jmoll@elmabustronic.com

More from Electronic Components & Devices