Microspectrophotometer measures thin films.
Press Release Summary: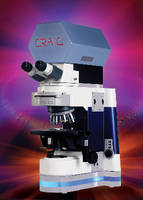 Combining advanced microspectroscopy with sophisticated software, QDI 2010 Film(TM) non-destructively measures thickness of thin films of photovoltaic cells by either transmission or reflectance. With sampling areas ranging from over 100 microns across to less than 1 micron, instrument can analyze many materials on both transparent and opaque substrates. Features such as contamination analysis and transmissivity testing can be added to instrument.
---
Original Press Release:

Thin Film Photovoltaic Test System from CRAIC Technologies



July 7, 2009 -- CRAIC Technologies, the leading manufacturer of UV-visible-NIR microscopes and microspectrometers, is pleased to announce the QDI 2010 Film(TM) microspectrophotometer. The QDI 2010 Film(TM) instrument is designed to measure the thickness of thin films of photovoltaic cells rapidly and non-destructively. Able to analyze films of many materials on both transparent and opaque substrates, the QDI 2010 Film(TM) enables the user to determine thin film thickness of even microscopic sampling areas. This powerful tool also has a host of other functions. It can be combined with CRAIC Technologies proprietary contamination imaging capabilities and can even test the transmissivity of PV cell protective covers. As such, the QDI 2010 Film(TM) represents a major step forward in metrology instrumentation available to the photovoltaic industry.

"Many of our customers want to test the quality of photovoltaic devices for rapid quality control of their products. The QDI 2010 Film(TM) microspectrophotometer was built in response to customer requests for a powerful, flexible metrology tool that can test a number of different aspects of many different photovoltaic devices" says Dr. Paul Martin, President.

The complete QDI 2010 Film(TM) solution combines advanced microspectroscopy with sophisticated software to enable the user to measure film thickness by either transmission or reflectance of many types of materials and substrates. Due to the flexibility of the CRAIC Technologies design, sampling areas can range from over 100 microns across to less than a micron. Designed for the production environment, it incorporates a number of easily modified metrology recipes, the ability to measure new films and sophisticated tools for analyzing data. Other features such as contamination analysis and transmissivity testing are easily added to this instrument.

For more information about QDI 2010 Film(TM) microspectrophotometer and its applications, visit www.microspectra.com.

About CRAIC Technologies: CRAIC Technologies, Inc. is a global technology leader focused microimaging and microspectroscopy in the ultraviolet, visible and near-infrared regions. CRAIC Technologies creates innovative solutions, with the very best in customer support, by listening to our customers and implementing solutions that integrate operational excellence and technology expertise. CRAIC Technologies provides solutions for customers in forensic sciences, health sciences, semiconductor, geology, nanotechnology and materials science markets whose applications demand accuracy, precision, speed and the best in customer support.

Contact information:

CRAIC Technologies, Inc.

www.microspectra.com

sales@microspectra.com

+1-310-573-8180

More from Packaging Products & Equipment