Microslide Linear Actuator suits pipetting applications.
Press Release Summary: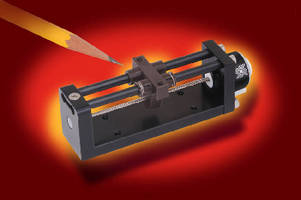 With 0.0006 in./step resolution and max load of 3 lb-ft, Microslide Linear Actuator is optimized for microfluidics and optical positioning applications. Microslide is 0.87 in. W x 1.0 in. H and provides up to 2.5 in. stroke. Equipped with 15000 Series 0.59 in. can-stack stepper motor, unit has self-lubricating polyacetal load carriage, supported by stainless steel guide rods with Black Ice® TFE coating. Kerk® leadscrew comes in 0.012, 0.016, 0.020, 0.039, and 0.079 in. leads.
---
Original Press Release:

Haydon Kerk Motion Solutions Introduces a Microslide Ideal for Precision Optics and Pipetting Applications



WATERBURY, CT - Haydon Kerk Motion Solutions, a premier manufacturer of precision linear motion products, releases a microslide linear actuator capable of a resolution of 15 microns / step (0.0006-in/step) and a maximum load of 13N (3 lb-f). This device is ideal for applications requiring precision motion in a small footprint and is optimized for applications such as microfluidics and optical positioning. The microslide is approximately 22mm (0.87-in) wide by 25.2mm (1.0-in) high and is capable of up to a 64mm (2.5-in) maximum stroke length.

A lightweight anodized aluminum base plate houses the lead screw bushing and is rigidly attached to the aluminum motor mounting plate. At the heart of the slide is the Haydon 15000 Series 15mm (0.59-in) can-stack motor, which has been proven in thousands of linear motion applications. The LS15 stepper motor requires no complicated controls and can be commanded using a simple pulse and direction signal.

The slide load carriage is made from self-lubricating polyacetal and features a built-in clearance take-up mechanism for load rigidity during motion. The carriage is supported by stainless steel guide rods coated with Black Ice® TFE coating. The Kerk® leadscrew is 303 stainless steel and is available in 5 different leads including 0.3mm (0.012-in), 0.4mm (0.016-in), 0.5mm 0.020-in), 1.0mm 0.039-in) and 2.0mm (0.079-in). When combined with the LS15 stepper motor, very fine positioning resolution can be achieved with the microscrew.

The microslide is easily configured for application-specific requirements including custom mounting, different stroke lengths up to 64mm (2.5-in), magnetic or optical position sensors, and custom wire harnesses. For more information, contact Haydon Kerk application engineering at 1-800-243-2715. To learn about more linear actuator products, visit www.HaydonKerk.com.

About Haydon Kerk Motion Solutions, Inc.

Haydon Kerk Motion Solutions is a unit of AMETEK, Inc., a leading global manufacturer of electronic instruments and electromechanical devices with annual sales of $3.0 billion. For more product information and CAD links, visit www.HaydonKerk.com or to contact an engineer to discuss a specific application, telephone Haydon Kerk at 203-756-7441.

Haydon Kerk Motion Solutions is the joining of two world-class brands in the field of linear motion: Haydon Switch and Instrument, Inc. and Kerk Motion Products, Inc. Together as Haydon Kerk Motion Solutions, they offer a wide range of high-performance and precision linear motion products.

Recognized as a leading manufacturer of stepper motor based linear actuators, rotary motors, lead screw assemblies, and linear rail and guide systems used in niche market applications, Haydon Kerk Motion Solutions has developed industry-renowned brands built upon its technical innovation, versatility, customization, product durability, and dedicated customer service.

More from Materials