Microsemi Wins China Electronic Market Magazine's Editor's Choice Award for its Adaptec Series 8E Adapter Solutions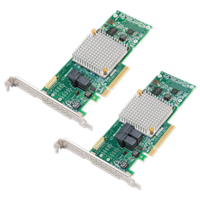 Company's Innovative Scalable Storage Solution Acknowledged by Leading Chinese Publication for Most Competitive Interconnect and Interface Product in China for 2016
ALISO VIEJO, Calif., May 3, 2017 - Microsemi Corporation (Nasdaq: MSCC), a leading provider of semiconductor solutions differentiated by power, security, reliability and performance, today announced it is the recipient of the China Electronic Market (CEM) magazine's 2016 Editor's Choice Award for its leading-edge Adaptec® Series 8E redundant array of independent disks (RAID) adapter devices. Microsemi's product family was recognized as the "most competitive interconnect and interface product in China for 2016" based on brand influence, market share, technological innovation, product services and unique features.
"We are pleased the CEM editors and industry experts recognized our Adaptec Series 8E with this prestigious award, as our unique solutions deliver accelerated performance and uncompromised reliability to our customers and the market," said Pete Hazen, vice president and business unit manager of scalable storage at Microsemi. "This recognition not only validates our leadership position in the market, but also acknowledges our team's accomplishments in delivering differentiated technology capabilities to our ever-expanding server storage customer base."
Founded in 1995, CEM is one of the earliest publications about the electronics and semiconductor industries in China. The monthly magazine covers new products, technical and market trends and market data of the electronics industry. Its annual Editor's Choice Awards evaluate product entries' brand recognition, adoption successes in the market, as well as unique capabilities and features.
Microsemi's cost-effective Adaptec Series 8E adapter solutions enable entry-level servers and workstations with redundant boot support and input/output (I/O) intensive applications such as databases, video editing and network video recording (NVR), which require high bandwidth. The 8405E and 8805E offer server storage customers entry-level systems with RAID devices that deliver accelerated performance with built-in cache and uncompromised reliability.
For more information, visit https://www.microsemi.com/products/storage/raid-adapters/raid-adapters.
About Microsemi's Product Portfolio for Data Center
Microsemi is a premier supplier of innovative semiconductor, board, system, software and services for enterprise and hyperscale data centers, enabling high performance, secure, low power and reliable infrastructure for scalable deployments. Microsemi technologies drive innovation in applications including storage systems, server storage, NVM solutions, Ethernet switching, rack scale architecture, data center interconnect, network timing and power subsystems. Building on a track record of technology leadership, Microsemi's data center infrastructure portfolio is transforming networks that connect, store and move big data, while lowering the total cost of ownership of deploying next generation services.
The portfolio includes high performance NVMe storage controllers, NVRAM drives, SAS/SATA host bus adapters and RAID controllers enabling high capacity storage architectures, high density PCIe switching and firmware for rack scale architectures, PCIe re-drivers, and Ethernet PHYs for intra-rack connectivity. Microsemi's product portfolio also includes clock and power management, IEEE1588 integrated circuits (ICs) and NTP servers for synchronization across the data center, as well as field programmable gate arrays (FPGAs) and system-on-chip (SoC) FPGAs to perform secure system management of servers and storage.
For more information, visit http://www.microsemi.com/applications/data-center.
About Microsemi
Microsemi Corporation (Nasdaq: MSCC) offers a comprehensive portfolio of semiconductor and system solutions for aerospace & defense, communications, data center and industrial markets. Products include high-performance and radiation-hardened analog mixed-signal integrated circuits, FPGAs, SoCs and ASICs; power management products; timing and synchronization devices and precise time solutions, setting the world's standard for time; voice processing devices; RF solutions; discrete components; enterprise storage and communication solutions, security technologies and scalable anti-tamper products; Ethernet solutions; Power-over-Ethernet ICs and midspans; as well as custom design capabilities and services. Microsemi is headquartered in Aliso Viejo, California, and has approximately 4,800 employees globally.
Learn more at www.microsemi.com.
SOURCE Microsemi Corporation
CONTACT:
Beth P. Quezada,
Director Corporate Communications,
949.380.6102,
Web Site: http://www.microsemi.com
More from Architectural & Civil Engineering Products