Microscopes provide optical magnification of 270 X.
Press Release Summary: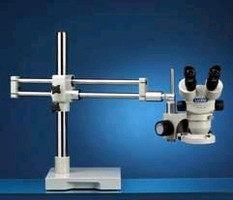 Featuring heavy-duty aluminum housings, System 273 Binocular and System 373 Trinocular Microscopes come standard with 10X, 23 mm widefield eyepieces and eyeshields. Both have zoom range of 0.7-4.5, giving them magnification range of 7-45 X. Zoom ratio of 7:1 is adjusted via dual graduated control knobs located on side of head. Designed to rotate 360° in their focus mounts, microscopes can be used with single- or dual-boom ball bearing stands.
---
Original Press Release:

Lighting Specialties Company features Luxo's New 23mm Microscopes



Lighting Specialties Company is now featuring Luxo's new System 273 Binocular and System 373 Trinocular microscopes offer 25% greater magnification, 15% greater field of view and 20% greater working distance than traditional models. Luxo's traditional System 250 Binocular and System 350 Trinocular Microscopes provide an optical magnification of 225X. New System 273 and System 373 microscopes provide a total optical magnification of 270X. Similarly, while Luxo's traditional System 350 Trinocular microscopes provide a digital magnification of 255X, new System 373 microscopes provide a digital magnification of 400X. Magnification of both System 273 and System 373 models can be further increased with the use of eyepieces and accessory lenses.Field of view is increased when viewed through the eyepieces of the System 273 and System 373 microscopes. Versus the traditional System 250 and System 350 microscopes, Luxo's 23mm line offers 15% greater viewing area.The smaller, sleeker bod y of System 273 and System 373 microscopes occupy a lesser footprint on the worksurface. Working distance is 2" greater than that of traditional Binocular and Trinocular scopes when used with a 0.5X reducing lens. This increased working distance not only provides additional space for operator maneuverability, but also decreases the chance that products may become damaged during inspection. Construction and Finishes: System 273 and System 373 microscopes have heavy-duty aluminum housings and come standard with 10X, 23mm widefield eyepieces and eyeshields. The microscopes rotate 360º in their focus mounts. Both Binocular and Trinocular models have a zoom range of 0.7 to 4.5 giving them a magnification range of 7X to 45X. The zoom ratio of 7:1 is adjusted via dual graduated control knobs located on the side of the head. System 273 and System 373 microscopes can be used with Luxo single boom stands or dual boom ball-bearing stands.Ordering Information: Literature, specifications and p ricing for System 273 and System 373 Microscopes are available from Lighting Specialties Company, 735 Hastings Lane, Buffalo Grove, Il 60089. 800-875-2852


More from Optics & Photonics