Microscope System utilizes angle measuring eyepiece.
Press Release Summary: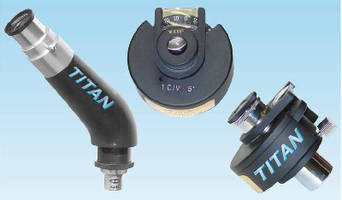 Available for modular tool microscope system, AME-5M Goniometer Eyepiece measures over 360° to accuracy of 5' (minutes) by use of rotary Vernier and crosshair eyepiece. Unit features white scale on black background and can be enlarged by 10X magnifier. Modular design enables user to attain magnifications from 3X–800X using choice of 3 microscope body styles, 3 rack-and-pinion mounting brackets, 2 illuminators, and 2 video adapters. System can handle workpieces up to 7 in. in length.
---
Original Press Release:

Titan Tool Announces Advancements in its Modular Tool Microscope System with New Angle Measuring Eyepiece



Titan Tool Supply, Inc., Buffalo, New York, announces the latest advancement in its modular tool microscope system with the introduction of the new model AME-5M angle measuring goniometer eyepiece. The AME-5M measures over 360° to an accuracy of 5' (minutes) by the use of a rotary Vernier and crosshair eyepiece. It features an easy-to-read white scale on a black background and can be enlarged by a 10X magnifier. It is ideal for checking cutting tool geometry and angular measurement, Titan Tool states.



An optimal use for the new AME-5M eyepiece is in conjunction with the Titan Tool modular tool microscope system, according to the company. The modular concept enables the user to attain magnifications from 3X to 800X using a choice of three body styles, three mounting brackets, two illuminators, and two video adapters. All images are optically correct, Titan Tool states, and parts may be used individually or assembled together to create an inexpensive measuring microscope.



Three basic microscope frames (straight in-line, 90° and 45°) are offered with variable magnifications from 10X and 20X at 7.97 inches working distance to 800X. Three different rack-and-pinion mounting fixtures feature X-Y-Z adjustments. Two styles of illuminators, including a cold light, fiber optic ring model that eliminates shadows and blind spots are available. In addition, either of the two video adapters can be used to allow convenient viewing of the image on a video monitor.



The company says that these sturdy, well-designed components permit the user to build a microscope-video system as simple or sophisticated as needed. The toolscope building block concept allows complete alignment capabilities for many fixturing adaptations such as alignment of electrodes to the workpiece for welding, alignment of grinding and slicing wheels, alignment of fiber optic systems to each other, and in micro-electronics for assembly and alignment on grinders. A system can handle work pieces up to 7 inches in length.



For free literature and pricing, contact:

Titan Tool Supply, Inc.

68 Comet Avenue

Buffalo, NY 14216

Phone: 716-873-9907

Fax: 716-873-9998

Email: info@titantoolsupply.com  

Website: www.TitanToolSupply.com



To download a PDF file on the AME-5M angle measuring eyepiece, visit: https://www.titantoolsupply.com/productDetail.asp?id=27136&md=d&mode=showDetail

To download a PDF file on the modular toolscope system, visit: https://www.titantoolsupply.com/content.asp?cid=815



Please send reader service inquiries to the above address to:

Frank Menza

President, Titan Tool Supply,Inc.

Email: info@titantoolsupply.com

More from Vision Systems