Microscope Cameras capture high-definition images and video.
Press Release Summary: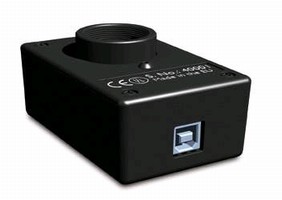 With resolution up to 2,048 x 1,536 and included XLi-Cap software, digital XLi M-Series adapts to most microscopes with existing camera port, including stereo, fluorescence, and inverted units. Once installed, ½ in. CMOS image sensor delivers clear images onto computer monitor through high-speed USB 2.0 cable and PC. Capable of operating at up to 10 fps in full resolution and 40 fps in low resolution, XLi M-Series records live videos of up to 20 sec.
---
Original Press Release:

Digital Microscope Camera Captures High-Definition Images and Video



Kirkland, WA, August 2, 2007 - VEE GEE Scientific announces the XLi M-Series digital microscope cameras, a perfect match for nearly any clinician, biomedical researcher, and material science technician who wants to document and archive microscope images and videos. With resolution up to 2048 X 1536 (QXGA) and the included XLi-Cap software, the M-Series camera systems adapt to most microscopes, produce clear images, and feature software tools specific to microscopy imaging.

The compact camera and standard C-mount lens adapter install on essentially any microscope with an existing camera port, including stereo, fluorescence, and inverted microscopes. Once installed, the camera's ½" CMOS image sensor delivers clear images onto a computer monitor through a high-speed USB 2.0 cable and PC. Capable of operating at up to 10fps in full resolution and 40fps in low resolution, the XLi M-Series records live videos of up to twenty seconds and displays the time elapsed while recording. With a click of a button, users can capture a live image, then email it to a colleague, copy it to a clipboard, or save it as a JPEG, BMP, or TIFF file.

Included with the M-Series cameras, the XLi-Cap software is designed to accommodate microscope users. Custom scales that support different objective magnifications can convert pixels to micrometers and millimeters.

These scales enable accurate point-to-point and area measurement of specimens at any magnification. Users can overlay a reticule on the image window and add explanatory notes and display the time and date using the annotation feature. "Particularly useful in instructional settings, the drawing tool lets teachers pinpoint, or mousepoint, areas of a live image," said Tom Beatty, Technical Operations Manager at VEE GEE.

The XLi-Cap software has a simple yet powerful graphic interface that gives users as much or as little control of the camera's advanced settings.

Toggle buttons change images from color to black and white and from high resolution to low. Automatic and manual modes adjust image exposure, white balance, and gain settings. Camera settings can be saved, restored to the previously saved state, or returned to factory settings.

VEE GEE Scientific sells the XLi M-Series cameras, adapters, and complete VanGuard microscope systems. The M-Series cameras are compatible with VanGuard"s line of complete turn-key microscopes, which includes brightfield, phase contrast, fluorescence, industrial, inverted, stereo, and educational microscopes. Please contact VEE GEE Scientific for details, technical support, or to locate a dealer to purchase an XLi M-Series camera.

About VEE GEE Scientific, Inc.
VEE GEE Scientific is a wholesale company of scientific supplies and equipment. With its international network of dealers, VEE GEE equips scientists and technicians in a range of industries with cost-effective products that meet or exceed the performance of similar, higher-priced instruments. VEE GEE integrates quality brand names like VanGuard Microscopes and VEE GEE Refractometers with personal and professional service.

Contact Name: Kaely Durward
Title: Sales & Marketing Account Representative
E-mail: kaelyd@veegee.net

Company Information:
VEE GEE Scientific, Inc.
13600 N.E. 126th Place, Suite A
Kirkland, WA 98034
USA
Phone: 425-823-4518
Fax: 425-820-9826
http://www.veegee.com

More from Electronic Components & Devices