Microprocessor Module works in embedded systems.
Press Release Summary: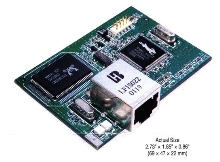 RCM3000 RabbitCore has Rabbit 300(TM) microprocessor, measures 2.73 x 1.85 in., and operates at 3.3 V. It has 6 serial ports, 10Base-T Ethernet, up to 512K each of Flash and SRAM, quadrature encoder inputs, PWM outputs, and pulse capture and measurement capabilities. Two 34-pin connection headers provide 52 digital I/O shared with 6 serial ports. Programs are developed with Dynamic C® system environment with editor, compiler, and in-circuit debugger.
---
Original Press Release:

Powerful RCM3000 Microprocessor Core Module for Rapid Embedded Systems Development


Davis, Calif., May 17, 2002 - The new RCM3000 RabbitCore is Rabbit Semiconductor's most powerful and feature-packed microprocessor core module. Powered by the new Rabbit 300(TM) - the "EMI-Free microprocessor" - the RCM3000 is the ideal option for designers who want to rapidly develop and implement embedded systems with fully integrated Ethernet connectivity. RabbitCores mount directly on a user-designed motherboard and act as the controlling microprocessor for the user's system.

Measuring only 2.73" x 1.85" (69 x 47 mm), the RCM3000 operates at 3.3 V (with 5 V-tolerant I/O) and features 6 serial ports. Built-in low-EMI features, including a clock spectrum spreader, help designers eliminate troublesome EMI problems that often threaten to derail tight development schedules.

Available in two models, the RCM3000 is equipped 10Base-T Ethernet, up to 512K each of Flash and SRAM, quadrature encoder inputs, PWM outputs, and pulse capture and measurement capabilities. Two 34-pin connection headers provide 52 digital I/O shared with the 6 serial ports. The integrated Ethernet port allows instant local or worldwide connectivity, and a pin-compatible RCM3100 without Ethernet is available for parallel development and cost-effective implementation of both Ethernet and non-Ethernet systems.

The RCM3000 features a battery-backable real-time clock, glueless memory and I/O interfacing, and ultra-low power "sleepy" modes. A fully enabled slave port permits easy master-slave interfacing with another processor-based system. The Rabbit 3000 processor's compact, C-friendly instruction set and high clock speeds produce exceptionally fast results for math, logic, and I/O.

Programs are developed with our industry-proven Dynamic C® development system, a C-language environment that includes an editor, compiler, and in-circuit debugger. Efficient hardware and software integration facilitates rapid design and development. User programs can be compiled, executed, and debugged using Dynamic C and a programming cable-no in-circuit emulator is required. An extensive library of drivers and sample programs is provided, along with royalty-free TCP/IP stack with source.

RCM3000 models are available May 17 and are priced from $39 (qty. 1000). A complete RCM3000 Development Kit is priced at only $299 and includes RabbitCore module (RCM3010 with 256K Flash/128K SRAM), prototyping board, AC adapter (U.S. only), serial cable for programming and debugging, Getting Started manual, and complete Dynamic C SE software development system (not a trial version) with royalty-free TCP/IP and documentation on CD-ROM.

Contact Rabbit Semiconductor at T: 530-757-8400, F: 530-757-8402, E: rabbit@rabbitsemiconductor.com, or order online at rabbitsemiconductor.com.

Rabbit Semiconductor
Rabbit Semiconductor is a fabless semiconductor company specializing in high-performance 8-bit microprocessors and development tools for embedded control and Ethernet connectivity. A division of single-board computer manufacturer Z-World, Rabbit Semiconductor introduced its first Rabbit microprocessor in 1999. According to an independent industry survey, design engineers often prefer Rabbit processors over other more-established 8-bit microprocessors: An impressive 18.4 percent of those who had used 8-bit chips in the preceding year said they would consider using Rabbit processors in their upcoming design projects. The Rabbit outscored well-known processors such as the Hitachi H8, Philips 80XX/80CXX, and Dallas 80XX/80CXX. Rabbit Semiconductor is a member of the Fabless Semiconductor Association and is located in Davis, Calif., 70 miles east of San Francisco. (Survey source: Embedded Systems Programming, 2001 Subscriber Study, Final Report, October 2001)


More from HVAC