Microprocessor includes clock spectrum spreader.
Press Release Summary: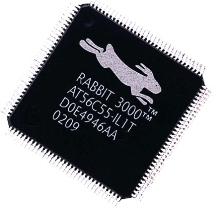 Rabbit 3000(TM) low-EMI 8-bit processor is designed for embedded control, communications, and Ethernet connectivity. It operates at up to 54 MHz and is C-friendly with compact code and direct software support for 1 MB of code/data space. Processor operates at 3.3 V and includes 6 serial ports with IrDA, 56+ digital I/O, quadrature decoder, PWM outputs, and pulse capture and measurement capabilities.
---
Original Press Release:

RABBIT SEMICONDUCTOR INTRODUCES THE NEW RABBIT 3000:THE EMI-FREE MICROPROCESSOR(tm)


Davis, Calif., March 13, 2002--Today, Rabbit Semiconductor announces the new Rabbit 3000(tm) microprocessor, an extremely low-EMI 8-bit processor designed specifically for embedded control, communications, and Ethernet connectivity.

The Rabbit 3000 shares its instruction set and conceptual design with the proven Rabbit 2000(tm). The Rabbit 3000's low-EMI features, which include a clock spectrum spreader, represent a breakthrough for embedded processors.

These features help designers eliminate troublesome EMI problems that frequently derail tight development schedules.

During testing, EMI for Rabbit 3000-based boards has typically been less than 10dB micro V/m at 3 meters--and some tests have even yielded results of 0 dB. The spectrum spreader is especially powerful, effectively reducing clock-related EMI and derivative signals by approximately 15 dB--a design-critical amount, as devices often fail EMI tests by as little as 5 or 10 dB.

The Rabbit 3000 is fast--running at up to 54 MHz--and C-friendly, with compact code and direct software support for 1 MB of code/data space. Rabbit 3000 development tools include extensive support for Internet and network connectivity, with full source code for TCP/IP provided royalty free.

The Rabbit 3000 operates at 3.3 V (with 5 V tolerant I/O) and boasts 6 serial ports with IrDA, 56+ digital I/O, a quadrature decoder, PWM outputs, and pulse capture and measurement capabilities. It also features a battery-backable real-time clock, glueless interfacing, and ultra-low power modes. Its compact instruction set and high clock speeds give the Rabbit 3000 blazingly fast performance for math, logic, and I/O.

Programming the Rabbit 3000 microprocessor is a breeze with the
industry-proven Dynamic C® software development system (Dynamic C SE included free in Development Kits). Our successful integration of hardware and software substantially reduces development time and cost. In addition, Rabbit developers do not need costly in-circuit emulators- programming is accomplished simply by connecting an interface cable from a PC to a Rabbit-based target system. Software development and debugging can be performed over Ethernet or the Internet using appropriate accessory hardware.

Rabbit 3000 processors are priced from $8-9 in quantity. The Rabbit 3000 Development Kit is priced at only $299 and includes RabbitCore core module (with Rabbit 3000, Flash, and SRAM), prototyping board, and complete Dynamic C SE software development system (not a trial version) and documentation on CD-ROM.

Development Kits shipping by April 30. Contact Rabbit Semiconductor at T: 530-757-8400, F: 530-757-8402, E: rabbit@rabbitsemiconductor.com, or order online at rabbitsemiconductor.com.

HIGH-RES PHOTO AVAILABLE ONLINE: Visit the Rabbit Press Room at
rabbitsemiconductor.com.

MORE RABBIT 3000 DETAILS ALSO AVAILABLE ONLINE:
rabbitsemiconductor.com.

RABBIT SEMICONDUCTOR
Rabbit Semiconductor is a fabless semiconductor company specializing in high-performance 8-bit microprocessors and development tools for embedded control and Ethernet connectivity. A division of single-board computer manufacturer Z-World, Rabbit Semiconductor introduced its first Rabbit microprocessor in 1999. According to an independent industry survey, design engineers frequently prefer Rabbit processors
over other more-established 8-bit microprocessors: An impressive 18.4 percent of those who had used 8-bit chips in the preceding year said they would consider using Rabbit processors in their upcoming design projects. The Rabbit outscored well-known processors such as the Hitachi H8, Philips 80XX/80CXX, and Dallas 8OXX/80CXX. Rabbit Semiconductor is a member of the Fabless Semiconductor Association and is located in Davis, Calif., 70 miles east of San Francisco.

(Survey source: Embedded Systems Programming, 2001 Subscriber Study, Final Report, October 2001)

EDITORIAL CONTACT
Peter Castles
(530) 757-8400
press@ rabbitsemiconductor.com

Media Relations/Marketing Communications

Z-World
2900 Spafford Street
Davis, CA 95616

T: (530) 757.3737
F: (530) 753.5141
E: pcastles@zworld.com
zworld.com

Microprocessor Division:
Rabbit Semiconductor
2932 Spafford Street
Davis, CA 95616

T: 530.757.8400
F: 530.757.8402
E: pcastles@rabbitsemiconductor.com
rabbitsemiconductor.com

More from Packaging Products & Equipment