Micropower Comparator has integrated 400 mV reference.
Press Release Summary: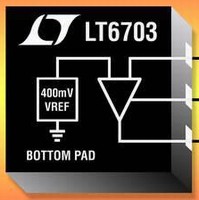 Suited for use as voltage monitor or threshold detector, LT6703 features total threshold error of 1.25%, comes in 2 x 2 mm DFN package, and operates with 1.4-1.8 V supply. It requires 6.5 µA of quiescent current and under 10 nA of input bias current. Input accepts voltages from 0-18 V, independent of supply voltage, and open collector output can be pulled up to 18 V, also independent of supply. Operating over -40 to +125°C range, IC features 6.5 mV internal hysteresis.
---
Original Press Release:

Tiny Micropower Comparator Combined with 400mV Reference Brings Precision to Low Voltage Designs



MILPITAS, CA - April 4, 2007 - Linear Technology Corporation announces the LT6703, a micropower comparator with an integrated 400mV voltage reference in a tiny 2mm x 2mm package. The LT6703 operates with a supply voltage from 1.4V to 18V, which is ideal for low voltage or unregulated power supplies. The LT6703 requires only 6.5uA of quiescent current and less than 10nA of input bias current. With a total threshold error of only 1.25%, the LT6703 is well suited as a voltage monitor or threshold detector.

In addition to its size and precision, the LT6703 is a very robust part. The input can accept voltages from 0 to 18V, independent of the supply voltage, and the open collector output can be pulled up to 18V, also independent of supply. This Over-The-Top® capability allows the LT6703 to interface to a wide range of signals or to serve as a voltage level translator. Furthermore, the LT6703 has built-in comparator hysteresis and guaranteed specifications from -40°C to 125°C to ensure reliable operation in electrically noisy and high temperature environments.

"The wide supply voltage range and the ability to put 18V on the input or output make this tiny device perfect for industrial applications," says Brendan Whelan, design manager for Linear Technology.

Two versions provide the choice of input polarity: the LT6703-2 has the 400mV reference connected to the non-inverting input and the LT6703-3 has the 400mV reference connected to the inverting input. Both versions are in full production, with prices starting at $0.75 each in 1,000-piece quantities.

Summary of Features: LT6703

· 1.4V to 18V Supply Voltage
· 400mV Internal Voltage Reference
· 1.25% Max Threshold Accuracy
· 6.5uA Quiescent Current
· ±10nA Max Input Bias Current
· 6.5mV Internal Hysteresis
· Input Range from Ground to 18V, Independent of Supply
· Open-Collector Output can be Pulled up to 18V
· Choice of Input Polarities: LT6703-2/LT6703-3
· -40°C to 125°C Operating Temperature Range
· Available in 2mm x 2mm DFN

About Linear Technology
Linear Technology Corporation, a manufacturer of high performance linear integrated circuits, was founded in 1981, became a public company in 1986 and joined the S&P 500 index of major public companies in 2000. Linear Technology products include high performance amplifiers, comparators, voltage references, monolithic filters, linear regulators, DC-DC converters, battery chargers, data converters, communications interface circuits, RF signal conditioning circuits, and many other analog functions. Applications for Linear Technology's high performance circuits include telecommunications, cellular telephones, networking products such as optical switches, notebook and desktop computers, computer peripherals, video/multimedia, industrial instrumentation, security monitoring devices, high-end consumer products such as digital cameras and MP3 players, complex medical devices, automotive electronics, factory automation, process control, and military and space systems. For more information, visit www.linear.com

LT, LTC, LTM, Burst Mode and are registered trademarks of Linear Technology Corp.

More from Laboratory and Research Supplies and Equipment