Microphone Preamplifier provides 4 digital outputs.
Press Release Summary: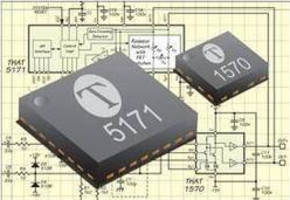 Comprising low-noise differential audio preamplifier and digital preamplifier controller, THAT1570/5171 Chipset features 130 dB dynamic range when operating from ±17 V supplies. Gain can be programmed over 56 1-dB steps from 13.6-68.6 dB. Servo minimizes dc offset, while zero crossing detector minimizes gain-switching noise. Housed in 4 x 4 mm QFN16 package, device features low noise of 1.5 nV/√Hz at 68.6 dB gain, THD+N of 0.0003% at 21.6 dB gain, and 1.8 MHz bandwidth at 40.6 dB gain.
---
Original Press Release:

THAT Introduces High-Performance Digitally Programmable Microphone Preamp



- Offers significant improvements in dynamic range & design flexibility

THAT1570/5171 paired chipset

Milford, MA, USA - THAT Corporation has introduced a new digitally programmable microphone preamplifier that offers unprecedented performance and flexibility for designers of pro audio equipment. The THAT1570/5171 paired chipset comprises a low-noise differential audio preamplifier (1570) and a separate high-performance digital preamplifier controller (5171). Compared to competing single-chip implementations that operate from only +/- 5 V supplies, the 1570/5171 enables much greater flexibility with up to 130 dB dynamic range when operating from +/- 17 V supplies, allowing designers to tradeoff power consumption versus dynamic range.

The part-pair enables gain to be programmed over 56 1-dB steps from 13.6 dB to 68.6 dB. An additional gain setting of +5.6 dB allows the combination to accept line inputs up to +22 dBu. Other high-performance specifications and features include: low noise of 1.5 nV/√Hz @ 68.6 dB gain, and 20 nV/√Hz @ 5.6 dB gain; low THD+N of 0.0003% @ 21.6 dB gain; and wide bandwidth of 1.8MHz @ 40.6 dB gain. In addition, integrated features simplify design, including: a servo for minimizing dc offset; a zero crossing detector and other patent pending techniques for minimizing gain-switching noise, and four general-purpose digital outputs.

Les Tyler, THAT Corporation's president, said "THAT's 2-chip approach supports higher supply rails than single-chip solutions yet requires even less printed circuit board space." He continued, "Those high supply rails allow our solution to support full pro audio input levels, adding up to 10 dB more dynamic range. The only other way to achieve this performance is to 'roll your own' discrete design, which takes weeks or even months to design, debug and build. And, when you're finished, you'd have a board full of components costing many times the price of the THAT1570/5171 chipset."
Gary Hebert, THAT's chief technology officer, added, "Integrating everything onto a single chip inherently requires performance tradeoffs. By planning carefully, we integrated functional blocks using the optimal semiconductor process for each essential function. The result is better performance."

THAT's 1570/5171 can be applied to: audio mixing consoles; digital audio snakes, audio distribution systems, PC audio breakout boxes, and more.

Price and availability

The THAT1570/5171 chipset is available now and costs less than $10 in 1000-pc quantities. The 1570 is housed in a tiny 4x4 mm QFN16 package, and the 5171 in a 7x7 mm QFN32. Contact the factory for pricing of the separate chips.

Demo board available

A demo board is available now and provides a complete microphone preamplifier, and includes facility for applying 48-V phantom power under USB control via Windows applications. The board also provides a prototyping area for adding and/or modifying circuitry. The demo board costs $250.

About THAT Corporation

THAT Corporation, founded in 1989, designs and sells high-performance analog integrated circuits for professional audio manufacturers. THAT's ICs include analog input and output stages, low-noise preamplifiers, and its original line of voltage-controlled amplifiers (VCAs) and RMS-level detectors - all used throughout the pro audio industry. The company also licenses patents, trademarks, and other intellectual property to the TV broadcast and reception industries. Under the dbx-tv® brand name, THAT offers digital (Verilog®) implementations of legacy TV audio receiver standards covering all parts of the world, including BTSC, A2, NICAM, and EIA-J. The company is headquartered in Milford, Massachusetts, with offices in Tokyo, Japan and Milpitas, California.

More from Material Handling & Storage