Microphone Preamplifier IC suits audio applications.
Press Release Summary: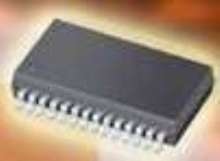 Packaged in 28-lead SSOP, PGA2500 digitally controlled microphone preamplifier IC (integrated circuit) is suited for use as front end for analog-to-digital converters in audio applications. It has gain range of 10-65 dB, 1 dB per step, and gain settings and internal functions are programmed using 16-bit control word loaded via serial port interface. Features include differential signal path, on-chip DC servo loop, and 4 programmable digital outputs.
---
Original Press Release:

TI Unveils Industry's First Digitally Controlled Microphone Preamplifier IC from Burr-Brown Pro Audio Product Line


TUCSON, Ariz. (Dec. 19, 2003) - Texas Instruments Incorporated (TI) (NYSE: TXN) today introduced the industry's first digitally controlled microphone preamplifier IC (integrated circuit) from the company's Burr-Brown Pro Audio product line. The PGA2500 is designed for use as a front end for high-performance analog-to-digital converters in a variety of professional audio applications, such as microphone preamplifiers, digital audio mixers and recorders, and broadcast and studio equipment. (See www.ti.com/sc03263.) Prior to the integrated PGA2500, a discrete mic preamp design included a combination of ICs and discrete parts to achieve a digitally controlled solution. Such a solution commonly incorporated instrumentation amplifiers, digital potentiometers/volume controls, switches/relays and discrete op amps. In addition to eliminating numerous components, the PGA2500 offers higher dynamic range, lower THD+N, and lower equivalent input noise versus gain when compared to discrete designs. The PGA2500 features a wide gain range of 10dB through 65dB (1dB per step), allowing the IC to be used with a variety of microphones. Gain settings and internal functions are programmed using a 16-bit control word, which is loaded using a simple serial port interface. A serial data output pin provides support for a daisy-chain connection of multiple PGA2500 devices. Other features include low noise, wide dynamic range and a differential signal path. An on-chip DC servo loop is employed to minimize DC offset, while a common-mode servo function may be used to enhance common-mode rejection. Four programmable digital outputs are provided for controlling the external switching of input pads, phantom power, high pass filters and polarity reversal functions. The device operates on a +/-5V supply.

Available Today

The PGA2500 is packaged in a 28-lead SSOP, and is available now from TI and its authorized distributors. The PGA2500 is priced from $9.95 in 1,000 piece quantities (suggested resale pricing). An evaluation module (EVM) is available.

Texas Instruments Incorporated provides innovative DSP and analog technologies to meet our customers' real world signal processing requirements. In addition to Semiconductor, the company's businesses include Sensors & Controls, and Educational & Productivity Solutions. TI is headquartered in Dallas, Texas, and has manufacturing, design or sales operations in more than 25 countries.

Texas Instruments is traded on the New York Stock Exchange under the symbol TXN. More information is located on the World Wide Web at www.ti.com.

Related