Micronor MR303 MRI Safe Linear Encoder Wins BEST OF SENSORS EXPO Innovation Award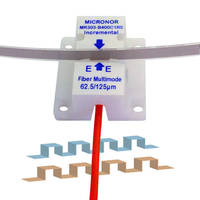 Micronor was presented with the 2015 BEST OF SENSORS EXPO SILVER INNOVATION AWARD for the new MR303 Fiber Optic Linear Encoder. Mat Dirjish, Executive Editor of Sensors Magazine presented the awards at Sensors Expo Conference at the Wednesday reception on June 10, 2015 at the Long Beach Convention Center in Long Beach, California.



"The caliber and magnitude of the nominations received directly reflects the increased momentum and innovative spirit of the sensors industry," said Dirjish. "We are pleased to shine a spotlight on the trail blazers of this industry, evangelizing the power of sensors to make a significant impact on our world. We extend our congratulations to all the winners and look forward to their continued contributions to this industry."



The MR303 is the world's first commercially-available MRI Safe linear position sensor system for OEM motion control applications. With 100µm resolution and 50µm accuracy, this innovative sensor is the ideal solution for medical, MRI, robotic and industrial applications where position and speed must be precisely monitored, and electromagnetic immunity and invisibility is required. The high precision linear encoder provides the means for performance enhancements of existing MRI systems as well as enabling new MRI applications and medical devices. Applications include MRI cradle position monitoring, MRI robots and MRI phantom training organs.



More from Material Processing