Micron Vacuum Gauge Kit attaches directly to HVAC/R system.
Press Release Summary: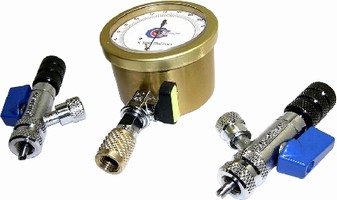 Featuring mechanical analog display, TIGAR Mic(TM) connects directly to refrigeration system's low-side pressure valve, eliminating hoses that can skew measurement accuracy. Isolation ball valve prevents gauge damage in event of recovering refrigerant accidentally before obtaining vacuum. Measuring 2½ in. diameter, gauge features 30,000 micron dial with 200 micron increments. Vacuum readings are displayed progressively and cannot be skewed by moisture/oil contamination.
---
Original Press Release:
Cliplight's New HVAC TIGAR Mic(TM) Mechanical Analog Display Micron Gauge Increases Vacuum Reading Accuracy
Innovative direct attachment of vacuum gauge to HVAC/R system valve eliminates rubber hoses that can skew readings accuracy. TORONTO-Cliplight Mfg., a leading HVAC/R tool, leak detection and refrigeration sealant manufacturer, has introduced the TIGAR Mic(TM), a mechanical analog display micron vacuum gauge kit that increases vacuum measurement accuracy because it connects directly to a refrigeration system's low-side pressure valve without hoses. The patent-pending TIGAR (Total Integrated Gauge Analog Response) Mic eliminates the need for rubber connection hoses, which according to ASHRAE (American Society of Heating Refrigerating & Air Conditioning Engineers) can skew measurement accuracy when gauging a system's vacuum in microns. Instead, the TIGAR Mic gauge and evacuation pump both connect directly into one of two included Cliplight Valve Core Remover (VCR) tools. The TIGAR Mic Kit's VCR's have accessible 65-degree-angle side ports combined with smooth surface discharge (no internal threads), which allows 33-percent faster refrigerant recovery. The VCR's require no special tools or charging fittings and fit all refrigeration systems except for some selected R-410a equipment. Other features include: o The TIGAR Mic gauge is an easy-to-read 2-1/2-inch-diameter analog 30,000-micron dial with 200-micron increments. o The gauge dial follows the trend back to reliable analog readouts utilized world-wide in industrial applications, all classes of vehicles, and test instruments. o Instead of static digital readouts, vacuum readings are displayed progressively and can't be skewed by moisture/oil contamination. No power or batteries are required. o An isolation ball valve prevents gauge damage in the event of recovering refrigerant accidentally before obtaining a vacuum. For more information on Cliplight, an ISO 9001:2000 certified manufacturer and its HVAC and refrigeration products, please email hvacr@cliplight.com, call 1-866-548-3644 or visit www.cliplight.com Contact: Linda Appler Cliplight Mfg. Co. 866-548-3644 hvacr@cliplight.com
More from Machinery & Machining Tools