Cleaning Compounds and Chemicals
Microfiber Cleaning System promotes healthy environment.
Press Release Summary: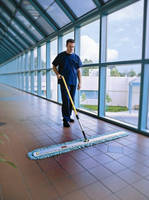 Rubbermaid® Hygen(TM) System incorporates textiles for both dry and wet cleaning as well as hardware such as Flexi Frame(TM), which conforms to shape of surface. Quick-Connect Handles and Poles simplify cleaning of hard to reach areas, and system also includes various buckets and carts. Bleach-tolerant and durable, textiles are able to withstand 500 launderings and as many as 200 launderings with bleach. System is suited for schools, hospitals, and airports.
---
Original Press Release:

Rubbermaid Commercial Products' Hygen Microfiber System Offers Proven Performance When Cleaning for Health



Industry's best microfiber delivers on three critical components
helping to ensure optimal results

ATLANTA, July 21, 2009 - Newell Rubbermaid (NYSE: NWL) today announced the introduction of a comprehensive microfiber cleaning program from Rubbermaid Commercial Products (RCP), the leader in durable facility maintenance solutions. The Rubbermaid® Hygen(TM) System features 100 percent premium quality split microfiber - the industry's best - and provides innovative solutions for proven performance in maintaining healthy, safe environments - known as "cleaning for health" - in facilities like schools, hospitals and airports.

"Rubbermaid Hygen addresses public hygiene concerns, as well as workplace safety and productivity needs," said Larry McIsaac, President of Newell Rubbermaid's Commercial Products global business unit. "By providing a complete solution set, the Hygen System helps ensure both those who clean and those who utilize public facilities reap the full benefits of microfiber cleaning."

The Rubbermaid Hygen System delivers three critical components - a complete system, proven performance and ongoing training and support - to ensure optimal results when cleaning for health.

Hygen is a comprehensive solution including innovative textiles for dry and wet cleaning, unique hardware such as handles and frames that help maximize productivity and value, as well as buckets and carts designed to enhance productivity and cleaning power. With the patent-pending Flexi Frame(TM), which conforms to the shape of a surface, and Quick-Connect Handles and Poles, cleaning hard to reach areas is easier - saving time and money. Together, this complete system of textiles and hardware helps reduce chemical consumption up to 95 percent, reduces water consumption up to 90 percent, cleans 45 percent faster than traditional methods and is proven to reduce worker strain.

The Hygen System delivers proven superior performance with premium textiles that are built around the industry's best microfiber - 100 percent premium quality split microfiber. They are bleach tolerant and extremely durable, withstanding up to 500 launderings and even as many as 200 launderings with bleach.

Another element that differentiates the Rubbermaid Hygen System from competitors is its extensive training and support structure. The implementation of an effective microfiber cleaning program requires expertise in how to best utilize textiles and tools in order to clean for health. Rubbermaid delivers a results-driven, ongoing training and support program. Beyond online resources and learning modules, it includes procedural videos and on-cart checklists that list task-specific procedures for front-line staff members. These training materials have been approved by the Association of periOperative Registered Nurses (AORN) through its AORN Seal of Recognition(TM) program. A dedicated field support team comprising Rubbermaid Healthcare Product Specialists and local sales personnel is available to conduct site audits, lead seminars and training classes and to assist with product implementation and best-in-class cleaning practices.

The Rubbermaid Hygen System is now available through RCP's global distributor network. For more information about Hygen, visit the Rubbermaid Commercial Products Web site at www.rcpworksmarter.com.

About Newell Rubbermaid

Newell Rubbermaid Inc., an S&P 500 company, is a global marketer of consumer and commercial products with sales of approximately $6 billion and a strong portfolio of brands, including Rubbermaid®, Sharpie®, Graco®, Calphalon®, Irwin®, Lenox®, Levolor®, Paper Mate®, Dymo®, Waterman®, Parker®, Goody®, Technical ConceptsTM and Aprica®.

More from Optics & Photonics