Microcontrollers feature low power consumption technology.
Press Release Summary: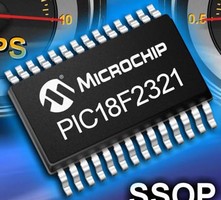 Supplied in 28-, 40, or 44-pin packages, 8-bit PIC18F4321 series provides 2 serial ports for USART, I2C(TM), or SPI communication. They also come with 13-channel, 10-bit ADC with auto acquisitioning and utilize nanoWatt technology to minimize power consumption. Offered with 4 or 8 KB Flash program memory and 256 bytes EEPROM data memory, MCUs come standard with 2 analog comparators and capture/compare/PWM module with support for MOSFET H-bridges.
---
Original Press Release:

Microchip Technology adds Lower-Cost Entry Point for PIC18 8-bit Flash MCUs with Advanced Peripherals and Low Power



PIC18F4321 Family Offers Enhanced Flash, 10-bit A/D and nanoWatt Technology in Low Pin Count 28/40/44-Pin Packages

CHANDLER, Ariz., Sept. 18, 2006 [NASDAQ: MCHP] - Microchip Technology Inc., a leading provider of microcontroller and analog semiconductors, today announced the four-member PIC18F4321 8-bit microcontroller family with advanced peripherals, low pin count, small-footprint package options and low power consumption via nanoWatt Technology. This family offers engineers a more cost-effective entry point to Microchip's PIC18 high-end 8-bit microcontroller family, with increased performance and peripherals at a lower price-while maintaining a seamless upward migration path to more memory, peripherals and performance.

Many designs require a high-performance 8-bit microcontroller with advanced peripherals, but relatively small memory. The PIC18F4321 provides two serial ports for expanded connectivity, a high-speed 13-channel, 10-bit analog-to-digital (A/D) converter with auto acquisitioning for faster measurements and lower code overhead, and nanoWatt Technology features to reduce power consumption and prolong battery life. Conversely, the PIC18F4321 offers the ideal amount of Enhanced Flash program memory-up to 8 Kbytes-to maintain cost-effective pricing.

"Our broad portfolio of compatible 8-bit microcontrollers allows customers to pinpoint the exact mix of performance and peripherals that will meet their cost and design requirements," said Mitch Obolsky, vice president of Microchip's Advanced Microcontroller Architecture Division. "The PIC18F4321 family continues this seamless migration path with a cost-effective and low-power entry point to our most advanced 8-bit microcontroller architecture."

The PIC18F4321 microcontrollers can be used in a broad range of horizontal applications. Specific examples include: Battery-Powered Devices, Consumer Electronics, Industrial Instrumentation, Communications Control, Automotive and Appliances.

Key features of the PIC18F4321 family include:
· 4 or 8 Kbytes of Flash program memory
· 256 Bytes of EEPROM data memory
· Two Serial Ports (1 synchronous, 1 asynchronous) for USART, I2C(TM) or SPI communication
· 10-bit A/D x 13 channels at 100 ksps
· 2 analog comparators
· Enhanced capture/compare/pulse-width modulation module with support for MOSFET H-bridges
· nanoWatt Technology low-power modes
· Flexible, low-power internal oscillator, with 32 MHz - 31 kHz operation

Development Tools
The PIC18F4321 family maintains compatibility with Microchip's free MPLAB® IDE integrated development environment, MPLAB C18 C compiler, MPLAB ICD 2 in-circuit debugger and emulator, and the MPLAB PM3 universal device programmer. In addition, the PICDEM(TM) 2 Plus (part # DM163022) demonstrates the capabilities of the PIC18F4321 family.

Availability and Pricing
The PIC18F4321/4221/2321/2221 microcontrollers are available now for general sampling at sample.microchip.com and volume-production shipments at www.microchipdirect.com. The PIC18F4321/4221 come in 44-pin QFN or TQFP and 40-pin PDIP packages, and the PIC18F2321/2221 are available in 28-pin QFN, SOIC, SPDIP and SSOP packages, all of which are RoHS-compliant. Prices start at $2.08 each in 10,000 unit quantities.

For additional information, contact any Microchip sales representative or authorized worldwide distributor, or visit Microchip's Web site at www.microchip.com/pic18f4321.

Microchip Customer Support
Microchip is committed to supporting its customers by helping design engineers develop products faster and more efficiently. Customers can access four main service areas at www.microchip.com. The Support area provides a fast way to get questions answered; the Sample area offers free evaluation samples of any Microchip device; microchipDIRECT provides 24-hour pricing, ordering, inventory and credit for convenient purchasing of all Microchip devices and development tools; finally, the Training area educates customers through webinars, sign-ups for local seminar and workshop courses, and information about the annual MASTERs events held throughout the world.

About Microchip Technology
Microchip Technology Inc. (NASDAQ: MCHP) is a leading provider of microcontroller and analog semiconductors, providing low-risk product development, lower total system cost and faster time to market for thousands of diverse customer applications worldwide. Headquartered in Chandler, Arizona, Microchip offers outstanding technical support along with dependable delivery and quality. For more information, visit the Microchip website at www.microchip.com.

Note: The Microchip name and logo, PIC, and MPLAB are registered trademarks of Microchip Technology Inc. in the USA and other countries. PICDEM is a trademark of Microchip Technology Inc. All other trademarks mentioned herein are the property of their respective companies.

More from Food Processing & Preparation