Microcontroller has clock speed of 40 MHz.
Press Release Summary: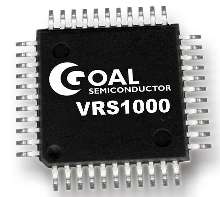 VERSA 1000 (VRS1000-40), 8-bit, 8051-based microcontroller offers In-System Programming (ISP) capability. Unit can serve as controller for applications that require up to 36 I/O pins and 64 K Flash memory for program, data, or both. On-chip Flash memory can be programmed in either serial or parallel interface with ISP feature. Available in 44-PLCC and 44-QFP packages, unit is multiple sourced and pin compatible with other 8051 based microcontrollers.
---
Original Press Release:

Goal Introduces the VERSA 1000 - A Versatile, Low-Cost, 8051-Based Microcontroller with a Clock Speed of 40MHz and In System Programming (ISP)


Montreal, October 10, 2002 -- Goal Semiconductor (www.goalsemi.com), announces the launch of the VERSA 1000 (VRS1000-40) - a low-cost, 8-bit, 8051-based microcontroller (a derivative of the 80C52 microcontroller family), with In-System Programming (ISP) capability.

With its hardware features and powerful instruction set, the VRS1000-40 can easily serve as a versatile and cost-effective controller for applications that require up to 36 I/O pins and 64K Flash memory for either program, data or both.

To program the on-chip Flash memory, a commercial writer is available. The on-chip Flash memory can be programmed in either serial or parallel interface with the ISP feature. The VRS1000-40's In-System Programming (ISP) capability makes it easy to program via an RS-232 transceiver/level shifter.

The VRS1000-40, available in 44-PLCC and 44-QFP packages, is multiple sourced and pin compatible with other 8051 based microcontrollers.

Key features include:

o Operating voltage: 4.5V through 5.5V
o Program voltage: 5V
o General 80C52 family compatible
o 12 clocks per machine cycle
o 64K byte on-chip Flash memory with In-System Programming (ISP) capability
o 1024 byte on chip data RAM
o Three 16-bit Timers/Counters
o 1 Watch Dog Timer
o Four 8-bit I/O ports + one 4-bit I/O ports for PLCC or QFP package
o Full duplex serial channel
o Bit operation instruction
o Page free jumps
o 8-bit Unsigned Division
o 8-bit Unsigned Multiply BCD arithmetic
o Direct and Indirect Addressing
o Nested Interrupt
o 2 Priority level interrupt
o 1 Serial I/O port
o Power save modes: Idle mode and power down mode
o Code protection function
o Low EMI (inhibit ALE)
o Reset with address $00 blank initiate ISP service program
o ISP service program space configurable in N*512byte (N=0 to 8) size
o 5-Channel PWM

The VRS1000-40 is supported by a demo system and is compatible with Keil compilers and Raisonance IDE / Compiler / Assembler-the latter freely available from Goal, http://www.goalasic.com/software.html

The VERSA 1000 is designed for systems in key segments and sub-segments such as industrial, medical, consumer, instrumentation and automotive and many other segment applications. For a detailed (customer) market segment list, please refer to the Sales section of the Goal Web site, http://www.goalsemi.com/custmktseg.html

All VERSA product families are supported by a user-friendly Development/Evaluation kit, comprehensive literature and documentation, practical application notes as well as full technical and applications support.

Goal's products are sold worldwide by our highly technical network of manufacturers representatives and distributors.
Goal is a privately held, fabless semiconductor company that supplies mixed-signal integrated circuits for the embedded data acquisition market. Founded in 1992, the company is headquartered in Montreal, Canada.

(Price for the VERSA 1000 in quantities of 1,000 is US $3.40)

Related