Microcontroller features nanoWatt technology.
Press Release Summary: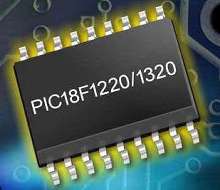 Series PIC18FXX20 PICmicro® Flash offers 6 power-managed modes, 0.1 µA power consumption in standby mode, and operating voltage from 2-5.5 V. Re-programmable Flash enables fix-on-the-fly capability and one-time validation. Device provides 8 Kbytes of Flash program memory, 512 bytes of RAM, 256 bytes of EEPROM, and internal multi-frequency oscillator up to 8 MHz. In-Circuit Serial Programming(TM) allows unit to be programmed after being placed in circuit board.
---
Original Press Release:

Microchip Technology Extends PICmicro® Microcontrollers with Industry-Leading Flexible Power-Managed Solutions Featuring nanoWatt Technology


The PIC18FXX20 series provides extensive power management options, clock management and high-performance data converters and digital peripherals

CHANDLER, Ariz., Nov. 12, 2002 - In order to meet growing demands for processing capabilities in power-managed environments, Microchip Technology (Nasdaq: MCHP) today announced a new PIC18F family of six PICmicro® Flash microcontrollers, featuring the Microchip's nanoWatt Technology, that enable designers to command complete control of overall system power consumption. nanoWatt Technology refers to advanced PMOS Electrically Erasable Cell (PEEC) process technology, circuit design and manufacturing techniques unique to Microchip, utilized in designing these devices.

Referred to as the PIC18FXX20 family, the MCUs feature six enhanced power-managed modes, power consumption as low as 0.1 microamps in standby mode and offer a wide operating voltage range from 2- to 5.5-volts making them ideal for battery managed applications.

With samples for all six devices available today, the MCU family offers the flexibility of re-programmable Flash memory coupled with new power-managed features supported by a world-class development tool suite. The power-managed features allow designers to lower their current consumption and better control their overall system power consumption by utilizing the software-controlled enhanced power modes, delivering performance in an affordable, quick-to-market solution. The PIC18FXX20 series was designed with re-programmable Flash that enables "fix on the fly" capability and one-time validation.

"Microchip has been helping customers apply leading edge embedded control technology in difficult environments for years and the 18-40-pin PIC18F family represents the most flexible microcontroller solution for a wide, dynamic range of power management needs." said Ganesh Moorthy, Vice President of the Advanced Microcontroller and Automotive Division at Microchip. "For those who require total control of power consumption, this PIC18 Flash family with our nanoWatt Technology provides a cost-effective solution and seamless migration path for higher processing power, hardware flexibility and new power-managed features to reduce the overall power consumption within their system."

The PIC18FXX20 microcontrollers are pin- and code-compatible with Microchip's current 18-, 28- and 40-pin portfolio, allowing designers to re-use software and hardware in existing platforms, thus lowering overall development costs and time-to-market concerns.

The new power-managed family is packed with new features ideal for battery management applications where extending the life of battery-operated systems is key. A flexible clock system with six enhanced "software controlled" power-managed modes enable engineers to execute code from a real-time clock base as well as control the speed of their code execution, thus allowing better control of the overall system power consumption. Additional features include a new low-current watchdog timer, a 2-speed start-up from a reset or sleep mode and a new fail-safe clock monitor that is used to detect an external clock failure.

The PIC18FXX20 devices offer up to 8K bytes of Flash program memory, up to 512 bytes of RAM memory, 256 bytes of EEPROM memory, and an internal multi-frequency oscillator up to 8MHz. Additional features include a 10-bit analog-to-digital converter (ADC) with up to 13 channels, an enhanced capture/compare/PWM module (CCP) with one, two or four outputs with auto-shutdown and auto-restart, an addressable USART module supporting RS-485, RS-232 and LIN, a programmable 16-level low voltage detection module (PLVD) and programmable brown-out reset (PBOR).

Featuring In-Circuit Serial Programming(tm) (ICSP(tm)), Microchip's PICmicro Flash devices allow the microcontrollers to be programmed after being placed in a circuit board. This offers tremendous flexibility, reduces development time and manufacturing cycles and improves time to market. ICSP enables reduced cost of field upgrades, system calibration during manufacturing and the addition of unique identification codes to the system and calibration of system in the field. The devices also support self-programming over the operating voltage range so that the user can program the device in-circuit at the user's operating voltage.

For development, Microchip offers the MPLAB® In-Circuit Debugger (ICD2) development tool. The MPLAB® ICD2 is a powerful, low-cost run-time tool that offers cost-effective in-circuit Flash programming and debugging from the graphical user interface of the MPLAB® Integrated Development Environment (IDE) tool. This enables a designer to develop and debug source code by watching variables, single-stepping and setting break points. Running at full speed enables testing hardware in real-time.

The devices are ideal for a wide range of applications, including intelligent sensing (smoke, leak or gas detectors, hospital ID tags, security systems, pet containment systems, voltage control), portable devices, hand-held tools, glucose meters, dictation recorders, utility metering (data loggers for gas/water/electric meters), RF powered instruments, battery capacity monitoring, and temperature transmitters.

Available packages include 18-pin PDIP and SOIC, 20-pin SSOP, 28-pin PDIP, SOIC, Quad Flat No-Lead (QFN) and 44- and 40-pin PDIP, TQFP, QFN packages. The PIC18FXX20 family is priced between $1.80 and $3.50 in volume manufacturing quantities depending on device, temperature range, package and operating voltage. Samples are available today with volume shipments planned for December. For additional information or pricing on these devices, contact any Microchip sales representative or authorized worldwide distributor or visit www.microchip.com.

About Microchip Technology

Microchip Technology Inc. manufactures the popular PICmicro® field-programmable RISC microcontrollers, which serve 8- and 16-bit embedded control applications, and a broad spectrum of high performance linear and mixed-signal, power management and thermal management devices. The Company also offers complementary microperipheral products including interface devices; microID® RFID devices; serial EEPROMs; and the patented KEELOQ® security devices. This synergistic product portfolio targets thousands of applications and a growing demand for high-performance designs in the automotive, communications, computing, consumer and industrial control markets. The Company's quality systems are ISO 9001 (1994 version) and QS9000 (1998 version) certified. Microchip is headquartered in Chandler, Arizona with design facilities in Mountain View, California and Bangalore, India; semiconductor fabrication facilities in Tempe and Chandler, Arizona; Gresham, Oregon and Puyallup, Washington; and assembly and test operations near Bangkok, Thailand. Microchip employs approximately 3,300 people worldwide and has sales offices throughout Asia, Europe, Japan and the Americas. More information on the Company can be found at www.microchip.com.

More from Printing & Duplicating Equipment