Microcontroller delivers sustained throughput of 83 MB/s.
Press Release Summary: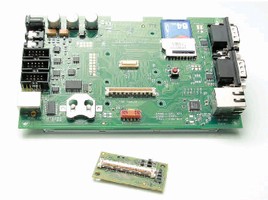 Bridging gap between high-level source code and gate level execution, IM3910 Reconfigurable System-on-Chip features integral Java Virtual Machine, making it suited for automation networking, battery-powered devices, Internet connected equipment, and Java-enabled remote control, point of purchase systems, and facility management. Device supports dual 10/100 Ethernet ports, 3 UARTS with 920 kbit/s, I2C or 20 Mb/s SPI port, and 8 DMA channels.
---
Original Press Release:

Energy Efficient Java & Ethernet MCU and Module from Imsys



Imsys efficiently bridges the gap between high-level source code and gate level
execution and offers 83 MB/s sustained throughput, with dual Ethernet, triple
UART, and SPI / I2C

The IM3910 is the newest member of Imsys' IM3000 platform family of Reconfigurable
System on Chip - RSoC® products. Its high energy-efficiency and ability to deliver a
sustained throughput of 83 MB/s makes it an ideal choice for I/O-demanding cost and
power sensitive devices. The combination with Java makes it useful for applications such as automation networking, battery powered devices, Internet connected equipment, and Java enabled remote control, point of purchase systems and facility management.

The Java Virtual Machine is an integral part of the MCU, which reduces the JVM
interpretation overhead leading to lower power consumption and longer battery life. The
IM3910 sets new standards for energy efficiency due to its compact code, efficient control logic, and patented memory interface. Using Java the developer gets done faster doesn't need to learn anything Imsys specific and hidden by the Java API. API support includes efficient networking and the designer can mix and match between Java, C and assembler.

IM3910 combines the best features of traditional CISC architectures and energy efficient use of resources with "FPGA-like" flexibility. IM3910 MCU supports dual 10/100 Ethernet ports, three UARTs with 920 kbit/s, I2C or high speed, up to 20 Mb/s, SPI port, and has eight DMA channels with a sustained 83 MB/s throughput.

"The introduction of the IM3910 represents yet another milestone for Imsys and offer better performance, more features and lower system cost and power consumption than its
predecessor", says Ola Andersson, Imsys President and CEO.

Imsys' complete offering includes RTOS, TCP/IP-stack, fail-safe flash file system, and
embedded web-server. With Imsys' full-fledged development system, the customer can
concentrate on the application without worrying about software integration problems.
The drop-in module offers the customer low risk development and short time to market and is ideal for customers that want a speed and feature upgrade from TINI® or SNAP(TM).

Pricing and availability
o IM3910-BA10 167 MHz MCU is available now at a price of USD 14,20 in quantity of
10k.
o IM3910-M210 module comes with 32 MB DRAM and 8 MB flash and is available now
at a price of USD $76,00 in quantity of 1k.
o The IM3910 is supported by Imsys development kit DK3-3910 at USD 695.

About Imsys
Imsys Technologies is an innovative fabless semiconductor company that supplies world-leading processors, modules, and tools for embedded applications. The company develops energy efficient reconfigurable processors and software for target applications. The processors can be programmed in Java, C and Assembler. An important part of the company's offering is the Internet-enabled reference modules shipped as ready-to-go subsystems.

Target markets for the integrated components are wired and wireless communications, graphic display technologies, and image processing applied in telecom, automotive, industrial automation, and consumer electronics.

FOR FURTHER INFORMATION, PLEASE CONTACT:
Roger Sundman
Telephone +46-8-59411076
E-mail roger.sundman@imsystech.com
Imsys Technologies AB
Johanneslundsvägen 3
SE-194 61 Upplands Väsby
Sweden
Phone +46 8 594 110 70
Fax +46 8 594 110 89
Web www.imsystech.com

More from Laboratory and Research Supplies and Equipment