Microchip Announces Industry's Lowest-power LoRa SiP and INICnet Technology for Automotive Infotainment Networking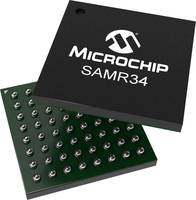 The SAM R34 LoRa SiP offers industry-leading low power consumption, enabling long-range wireless connectivity while extending system battery life in remote IoT nodes. Additional features include:
The SiP combines an ultra-low-power 32-bit microcontroller (MCU), sub-GHz RF LoRa transceiver and software stack
The SAM R34/35 SiPs come with certified reference designs and proven interoperability with major LoRaWAN™ gateway and network providers, significantly simplifying the entire development process with hardware, software and support
Powered by the ultra-low-power SAM L21 Arm® Cortex®-M0+ based MCU, the SAM R34 devices provide sleep modes as low as 790 nA
Highly integrated in a compact 6 x 6 mm package, the SAM R34/35 family is ideal for long-range, low-power IoT applications that require small form factor designs and extended battery life such as smart cities, agricultural monitoring and supply chain tracking
Intelligent Network Interface Controller networking (INICnet) technology supports all data types, including audio, video, control and Ethernet, over a single cable. Additional features include:
As a synchronous, scalable solution that significantly simplifies building audio and infotainment systems, INICnet offers seamless implementation in vehicles that have Ethernet-oriented system architectures
INICnet technology offers a more flexible solution for transporting packet, stream and control content, which is key for mobile services, cross-domain communication and autonomous driving applications
INICnet technology provides full flexibility through supporting a variety of digital audio formats with multiple sources and sinks
Provides high-speed packet-data communications with support for file transfers, Over-The-Air (OTA) software updates and system diagnostics via standard Ethernet frames
Details and high-res images are available at the following links. Please let me know if you are interested in speaking with a product expert or if you have any questions.
Christie Haber
Public Relations Specialist
Microchip Technology Inc.
More from Communication Systems & Equipment