MicroATX Motherboard supports AMT and TPM-based security.
Press Release Summary: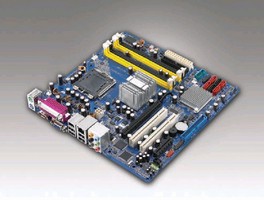 Powered by Intel® Q965/ICH8DO chipset, Model AIMB-564 supports Intel® Core(TM)2 Duo processors and implements Active Management Technology to enable remote management. Unit handles up to 8 GB dual-channel DDR2 533/667/800 MHz memory, with 1,066/800/533 MHz FSB. Drive connections for up to 7 SATA II and 1 eSATA HDD are designed with software RAID 0, 1, 5, 10 support, making AIMB-564 suitable for storage-intensive applications. Trusted Platform Module can be plugged in for added security.
---
Original Press Release:

Q965 Industrial MicroATX Motherboard Supports AMT and TPM-Based Security (AIMB-564)



Irvine, California, December 7, 2007 - Advantech just unveiled a new Intel® Q965-based industrial microATX motherboard that boasts a strong feature set. AIMB-564 supports Intel® Core(TM)2 Duo processors and implements Active Management Technology (AMT) to enable remote management. Ample drive connections for up to seven SATA II and one eSATA HDD are designed with software RAID 0, 1, 5, 10 support, making AIMB-564 an ideal platform for storage-intensive applications like surveillance. Superior media performance and I/O, and support for Trusted Platform Module (TPM) for enhanced security makes it a suitable solution for gaming applications, as well as digital signage, kiosks and point-of-sale terminals.

Superior Computing and Graphics Capabilities
AIMB-564 is an LGA775 socket microATX motherboard powered by an Intel® Q965/ICH8DO chipset. It supports Intel® Core(TM)2 Duo, Pentium® D, Pentium® 4 or Celeron processors, for low-wattage, best-in-class computing performance. It can handle up to 8 GB of dual-channel DDR2 533/667/800 MHz memory, with a 1066/800/533 MHz FSB. Multitasking capacity and memory management are built in, along with excellent video and audio performance. With full support of Windows® Vista 64-bit and DirectX 10, this board is ready for enhanced high-end graphics, with lush 3D visual detail. In addition, the on-board 8-channel High Definition surround sound allows top-notch audio performance as well.

TPM and AMT-based Security
AIMB-564 implements Trusted Platform Module (TPM) support. Advantech provides an optional TPM chip that can be plugged into the board for the added security of boot drive encryption, key and password storage, digital authentication and hardened file protection. In addition to safeguarding operation and data, another TPM benefit is high quality random number generation, which can be very useful for gaming machines. Another added value is Intel® Active Management Technology that allows administrators to remotely diagnose, manage and cure systems, regardless of the system's power state or OS condition. If a technician can boot, diagnose, reboot and recover a system without physically going to a site, it can reduce both downtime and operating costs-two obvious benefits, especially for unmanned installations.

Massive Storage
AIMB-564 combines processing power with great mass storage, I/O and memory options. Seven SATA II connectors, along with robust ICH8DO RAID 0, 1, 5, and 10 support, are appealing to surveillance applications, where large amounts of data need to be retained. If seven internal hard drives are not enough, an eSATA connector allows the attachment of an external JBOD stack. In addition to the onboard VGA, one PCIe x16, one PCIe x4 and two PCI slots provide for graphics, capture and add-on cards.

Great I/O Connectivity
Fast processing and superior graphics are great for gaming applications. Systems built on this board can deliver high end graphics, 8-channel HD surround sound, motion control and joystick feedback. Ten USB 2.0 ports, one serial port, one parallel port and two IEEE 1394 connectors endow this board with abundant connection opportunities. LAN connectivity is covered by one 10/100/1000 Base-T Intel® 82566DM Gigabit Ethernet port.

With five years minimum of assured product availability, AIMB-564 offers system integrators the peace of mind of knowing there is a stable supply. It fully supports Microsoft® Windows XP, 2000 and Vista, and DirectX 10.

Features
o Intel® Q965 chipset 533/800/1066 MHz FSB
o Supports Intel® Core(TM)2 Duo processor
o Dual channel DDR2 533/667/800 SDRAM up to 8 GB
o Chipset integrated VGA sharing 256 MB system memory
o PCIe x16 slot expansion
o Supports SATA RAID 0, 1, 5, 10
o Supports single 10/100/1000Base-T Ethernet via dedicated PCIe x1 bus
o TPM support via optional daughter board
o AMT built-in

About Advantech
Founded in 1983, Advantech is a global leading ePlatform services provider of web-based technology, computing platforms and customization services to empower innovations in the connected eWorld. Advantech cooperates closely with partners to help provide complete solutions for a wide array of applications in various industries. Advantech delivers more than a thousand products and platform solutions in 5 main categories: Industrial & Network Computing, Embedded Computing, Applied Computing, eVideo Solutions, and eAutomation. With more than 2,700 talented people, Advantech operates an extensive support, sales and marketing network in 18 countries and 36 major cities. Advantech delivers efficient time-to-market services to all worldwide customers. (Corporate Website: www.advantech.com)

More from Thermal & Heating Equipment