Micro USB Plug is designed for vertical PCB mounting.
Press Release Summary: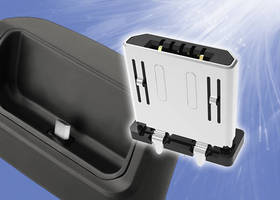 With 7.13 mm height above PCB, 7.35 x 2.80 mm USB3150 suits cradle mounting applications normally used to charge handheld devices — from cell phones to rugged PCs. PCB plug is thru hole with 5 contacts, and additional strength on PCB is promoted by 6 metal shell stakes and 2 plastic locating pegs. Two shell stake and lead length options are offered at 0.75 and 1.30 mm, and product meets USB 2.0 standards — including 10,000 mating cycles and mating/unmating forces from 8–35 N.
---
Original Press Release:

New Low Profile Vertical PCB Mount Micro USB Plug Saves 80% Board Space



Global Connector Technology has expanded its industry leading range of vertical micro USB connectors with the introduction of a new micro USB plug - vertical PCB mounted. Versus a popular competitor height above PCB is 7.13mm, more than 5.00mm profile saving.  Footprint is a compact 7.35mm x 2.80mm, an 80% footprint saving!



Micro USB plugs are normally mounted on a cable assembly, USB3150 offers designers an alternative option as it's a micro USB plug designed for vertical printed circuit board mounting.  Perfect for cradle mounting applications, normally used to charge handheld devices from cell phones up to rugged PC's.



The PCB plug is thru hole with five contacts.  To achieve additional strength on PCB the new range features six metal shell stakes and two plastic locating pegs.  Two shell stake and lead length options are offered at 0.75mm & 1.30mm allowing customers to choose the appropriate type to suit their PCB thickness.



USB3150 meets USB2.0 standards including ten thousand mating cycles and mating/unmating forces between 8-35N, all technical details are contained in the full product specification.



To speed up design downloadable drawings, 3D models and product specification are available from www.gct.co



Call today to discuss your design requirements, or visit www.gct.co to see why GCT should be the supplier of choice for micro USB connectors.



Exact  weblink for digital publication:

www.gct.co/connector/?series=USB3150



About Global Connector Technology

Global Connector Technology (www.gct.co) is headquartered in Hong Kong and has sales and support locations in Hong Kong, North America and Europe. Part of a privately held group of companies, GCT has manufacturing locations in mainland China and a dedicated engineering team based in Hong Kong. GCT is enjoying rapid growth with its focus on expanding markets including handheld devices, computing, industrial, security, medical and consumer. GCT is an ISO9001 approved organization and its products are fully RoHS and Reach compliant.



GCT USA Contact details:

Global Connector Technology, Inc.

354 Merrimack Street

Building 1, Suite 262

Lawrence, MA 01843

Tel: +1 978 2081618

E-mail: sales@gct-americas.com

www.gct.co



Issued by:

Pinnacle Marketing Communications Ltd

Green Park House

15 Stratton Street, London, W1J 8LQ

Tel: +44 20 8869 9339                    

Fax: +44 20 8868 4373

E-mail: i.jarrett@pinnaclemarcom.com

Web: www.pinnacle-marketing.com

More from Communication Systems & Equipment