Micro-size Cryocooler enables quick-startup IR sensors.
Press Release Summary: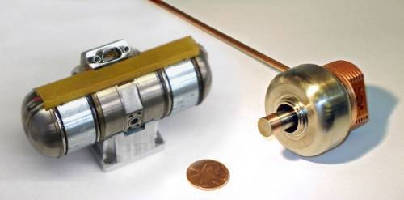 Capable of cooling IR sensor in 3 minutes, Fast Cool Down Microcryocooler ensures military can have rapid-reaction systems. Unit is suitable for sophisticated electronics like satellite sensors and cameras that need to be cooled to detect what they are designed to capture, even to temperatures as low as -320°F. Using miniaturized compressor and cold head measuring just 54 mm long, cooler weighs 320 g for use in compact, hand-carried weapon systems and small spacecraft, like cubesats.
---
Original Press Release:

Lockheed Martin's Micro Cooling Device Now Gets Defense, Satellite Systems Up and Running 4x Faster



Fast Cool Down Microcryocooler Enables Quick-Reaction Systems, Smaller Satellites



PALO ALTO, Calif.,  -- A new micro-size cryocooler from Lockheed Martin (NYSE: LMT) is enabling quick-startup infrared (IR) sensors for missile and sensor applications. Cryocoolers are standard components in IR-sensing platforms, from space observation to weapons targeting, and this new highly-compact product enables faster activation and smaller packaging.



"The Fast Cool Down Microcryocooler makes sure our military can have rapid-reaction systems, from missile to passive sensor applications," said Dr. Jeffrey Olson, a research scientist at Lockheed Martin's Advanced Technology Center. "We can cool an IR sensor in 3 minutes, versus the 12 to 15 minutes of current systems. That's crucial when lives are on the line."



Highly sophisticated electronics like satellite sensors and cameras need to be cooled to detect what they're designed to capture, even to temperatures as low as -320 F (-195 C). This microcryocooler uses the same miniaturized compressor as the standard microcryocooler but with a new cold head. The innovative architecture allows engineers to reduce the cold head to just 54 mm long, less than half the length of the previous model. And at just 320 grams the cooler still provides big capability even for compact, hand-carried weapon systems and small spacecraft, like cubesats. Plus, the Fast Cool Down Microcryocooler delivers these capabilities with a decade-long design life.



The Advanced Technology Center produces a comprehensive cryocooler product line, with previous breakthroughs such as the High Power Microcryocooler variant already offered on the market.



About Lockheed Martin

Headquartered in Bethesda, Maryland, Lockheed Martin is a global security and aerospace company that employs approximately 125,000 people worldwide and is principally engaged in the research, design, development, manufacture, integration and sustainment of advanced technology systems, products and services.



Media Contact:

Mark Lewis, +1 408-742-3516, mark.e.lewis@lmco.com



For additional information, visit our website: http://www.lockheedmartin.com

More from Electronic Components & Devices