Micro-Serrated Drive Pins enhance workholding capability.
Press Release Summary: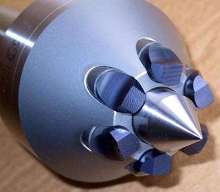 Designed to facilitate hard turning, Neidlein hard-coated drive pins mount around face driver to reduce or eliminate part slippage and scrapped parts. If slippage occurs, pins can be used again. Given proper parameters, products achieve circular run outs of less than 0.002 mm in long production runs. They work with proprietary SB/FSB and FFB face drivers as well as special application face drivers for hard turning. Pins also work with other brands.
---
Original Press Release:

Neidlein Face Drivers With New Serrated/Coated Drive Pins Reduce Part Slippage, Improve Turning Productivity


Logansport, IN - Hard turning is now easier and more productive with new Neidlein face driver drive pins from Logansport Matsumoto Corporation. Micro-serrated and hard-coated, these unique drive pins reduce or eliminate part slippage, dramatically reduce scrapped parts, extend performance life over diamond-coated drive pins, and increase turning productivity.

Finishing hardened work pieces using face drivers is gaining greater acceptance with the advanced capabilities of these tools. However, a drawback has been the ability to successfully clamp hardened work pieces, while, at the same time, machining them entirely in a single operation. To insure proper work holding, a suitable driving element is needed which can handle high torque demands and still be cost effective to make hard turning possible. To do this, Neidlein has developed a system of micro-serrated and hard-coated drive pins mounted around the face driver (which has proven successful for many turning applications, but especially hard turning).

Life expectancy for micro-serrated and hard-coated drive pins is six to ten times longer than diamond-coated ones. These new pins are also much safer than diamond-coated pins that can lose grip or shatter under tough turning conditions. Even if a part should slip with the new version, it won't remove the serrations or coating as quickly as is the case with diamond-coated products. Also, if slippage occurs, the pins can be used again, unlike diamond-coated ones that would need replacing. In addition, to handle a greater work piece variety, these pins grip on a smaller surface area.

Given the proper parameters, these drive pins can achieve circular run outs of less than 0.002 mm in long production runs.

Neidlein's serrated and coated drive pins can be used with its SB/FSB, and FFB standard face drivers and all special application face drivers for hard turning. They also work with many other brands of face drivers.

Neidlein makes a complete line of face drivers that use quick-change center points and drive pins for increased productivity and cost efficiency. An online video at its Internet Website is available to see them in action.

The LMC Workholding line includes...
· LMC and Matsumoto hydraulic power chucks, cylinders and wheel chucks;
· LMC Rotary tables for single and multiple axis CNC turning, EDM and other machining applications;
· Atling Steady Rests;
· Neidlein face divers, as well as live and dead centers.

Contact Logansport Matsumoto Company, P.O. Box 7006, Logansport, IN 46947-7006, telephone 574-735-0225, fax 574-722-6559, e-mail info@logan-mmk.com. Website: www.logan-mmk.com.

Related