Micro Punch Broach is made of high speed steel.
Press Release Summary: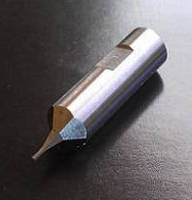 Able to be used with pecking or punching technique, micro rotary broaching tools consist of cutting tools used in precision machining industry to make hexagon, square, and custom shapes in various materials using lathe, mill, or other turning machine. When punching, broach can be removed, chips can be drilled out, and then broaching can be completed. Broaches are made from M-42 high speed steel and feature .25 in. shank diameter.
---
Original Press Release:
Polygon Makes Impact with Micro Punch Broach
Polygon Solutions Inc. is expanding it's inventory of micro rotary broaching tools. Rotary broaching tools are popular cutting tools used in the precision machining industry. Broaches can be used to make hexagon, square and custom shapes in various materials using a lathe, mill or other turning machine.

Most rotary broaching applications in aluminum and brass rely on a tool holder to wobble the broach into a hole and form the shape desired. However, manufacturers continue to be interested in broaching tougher materials such as titanium. Due to the challenges associated with this type of material, alternative methods of shaping the hole, including pecking and punching are becoming more popular.

Polygon Solutions makes many of these innovative tools used for rotary broaching operations. The technique of pecking or punching the broach into the hole has an advantage over traditional rotary broaching. When punching, the broach can be removed, the chips drilled out, and then broaching can be completed. This is more difficult with a traditional rotary broach tool holder because there is no brake to keep the broach aligned with the pilot hole while chips are being removed.

The most popular broach material for punch broaching is M-42 high speed steel. M-42 has cobalt and other properties which make it less prone to chipping. Customers can request any of Polygon's standard rotary broaches to be made of M-42 high speed steel.

Due to the small or micro size of most titanium parts, typical machining is accomplished on smaller turning machines often referred to as Swiss machines. Many of these Swiss turning machines have very little room for additional tooling, which is another reason to use the punching method. The punching method does not require the use of the much larger rotary broach tool holder.

Typical rotary broaches have an 8mm, .50" or .75" shank diameter. Polygon's new line of rotary broaching tools is made from M-42 with a smaller .25" shank diameter. This micro shank size fits better in smaller machines and can be produced faster than larger broaches. Most rotary broach customers require fast delivery.

"Polygon Solutions is our go to source for all our broaching needs. They have the sizes we need and provide the fastest turnaround in the industry" says Chris Scharf of Espritdent Dental. Espritdent is a leading pioneer in the production of high-quality, affordable Zirconia CAD/CAM dental understructures.

In 2012, Polygon won the prestigious ML100 award for Innovative Enterprise. In 2013, Polygon won the Transformation Award from the Southwest Florida Regional Technology Partnership. The new micro punch broach is the latest innovation from the Florida manufacturer for the medical, Swiss and micro machining industries.

More information: http://www.polygonsolutions.com
More from Fluid & Gas Flow Equipment