Micro-Layered Shrink Films promote strength and sustainability.
Press Release Summary: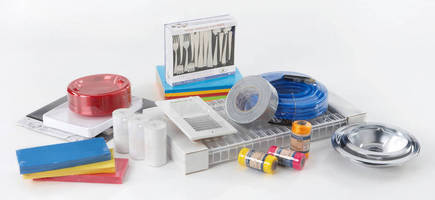 Available in 5 gauges, Cryovac®CT-300 Series includes general-purpose, lightweight, performance-focused films optimized for seal strength and durability. Cryovac®CT-500 Series, offered in 4 gauges, provides soft yet strong and tear-resistant alternative for wrapping irregularly shaped products as well as light-weight products. Compatible with machines that can process up to 100 packs/min, Cryovac®CT-700 Series also accommodates automated packaging operations.
---
Original Press Release:

Sealed Air Adds a Layer of Performance and Sustainability to Shrink Films



Micro-layered Cryovac® Technology (CT) films offer material reductions, enhanced performance



ELMWOOD PARK, N.J. – Sealed Air today unveiled the latest expansion in its next-generation line of micro-layered Cryovac® Technology (CT) films, designed to help processors shrink sustainability concerns without compromising performance or value. The new CT films offer thinner gauge options than conventional polyolefin or polyvinyl chloride (PVC) overwraps, enabling users to reduce both their carbon footprint and overall operating costs.



The newest additions to the Sealed Air CT film offering better accommodate applications that require thicker films while maintaining a potential source reduction of up to 50 percent compared to traditional polyolefins and up to 60 percent or more compared to PVC films. The film's reduced mass also allows it to shrink in given applications at lower tunnel temperatures, resulting in a solution that conserves energy and reduces overall carbon footprint throughout production and distribution.



"By expanding our packaging portfolio with the release of our new CT films, Sealed Air can not only serve a wider range of shrink applications, but also enable our customers to package in a more sustainable manner," said Jim Oddo, vice president marketing, shrink packaging solutions for Sealed Air's Product Care division. "The CT films exemplify Sealed Air's SmartLife™approach, which emphasizes a commitment to sustainability through packaging solutions that provide efficient protection while reducing costs, waste and overall environmental impact."



Sealed Air's CT shrink films are grouped and available in three distinct film families based on functionality and gauge. These categories include:

• Cryovac®CT-300 Series: Currently available in five gauges, the CT-300 series includes light-weight, performance-focused films that provide enhanced seal strength and durability. These general purpose films are used in a wide variety of product applications.

• Cryovac®CT-500 Series: Currently available in four gauges, the CT-500 series offers a soft yet strong and tear-resistant alternative. CT-500 series films are most effective when used to wrap irregularly shaped products, as well as light-weight products better accommodated by softer films. The wide operating window of the 500 series accommodates a broad range of equipment including those in marginal operating condition.

• Cryovac®CT-700 Series: The CT-700 series is compatible with machines that can process up to 100 packs-per-minute, and accommodates highly automated packaging operations where speed is critical.



Beyond their sustainability and cost advantages, the new Sealed Air CT films provide a host of additional features that enhance packaging efficiency. All film variations provide longer rolls than those typically found on conventional polyolefin and PVC materials, resulting in fewer changeovers and increased throughput. The CT films also provide improved clarity and optics to maximize presentation for retail.



To learn more about Sealed Air's CT films and its overall shrink packaging portfolio, visit www.shrink-pkg.com.



About Sealed Air

Sealed Air Corporation creates a world that feels, tastes and works better. In 2012, the company generated revenue of approximately $7.6 billion by helping our customers achieve their sustainability goals in the face of today's biggest social and environmental challenges. Our portfolio of widely recognized brands, including Cryovac®brand food packaging solutions, Bubble Wrap® brand cushioning and Diversey™ cleaning and hygiene solutions, ensures a safer and less wasteful food supply chain, protects valuable goods shipped around the world, and improves health through clean environments. Sealed Air has approximately 25,000 employees who serve customers in 175 countries. To learn more, visit www.sealedair.com.



Jamie Cwalinski

Account Executive

jamie.cwalinski@mslgroup.com



1170 Peachtree Street NE

Atlanta Georgia, 30309

T: 1-404-877-5534

M: 404-664-2092

More from Materials