AC Motor Controllers and Drives
Micro Drive controls AC motors up to 30 hp.
Press Release Summary: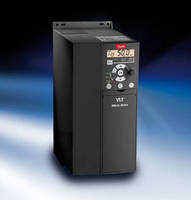 Available in M5 frame size measuring 11.5 x 6.5 x 9.8 in., VLT® Micro Drive covers 3-phase, 380-480 Vac, 25-30 hp range. Variable frequency drive offers true side-by-side mounting without derating. Flying start feature maximizes uptime, while electronic thermal relay eliminates need for external motor protection. Additional features include serial communications via RS-485 Modbus RTU and FC protocols, detachable Local Control Panel, IP20 protection, and built-in RFI filter.
---
Original Press Release:

Compact VLT® Micro Drives Now Available with More Power



General purpose drive designed for rugged and reliable, out-of-the-box, plug-and-play control of AC motors up to 30 HP

LOVES PARK, IL -- Danfoss Drives has added an M5 frame size to its VLT® Micro Drive family. The M5 frame size is 11.5 in. H x 6.5 in. W x 9.8 in. D, and covers the three-phase 380 - 480 VAC, 25 - 30 HP range. The drive offers true side-by-side mounting without any derating due to its compact book-style design. An Automatic Energy Optimizer function allows the drive to consume less energy while the Automatic Motor Adaptation feature leverages the motor's full operating potential. Users will also benefit from up to 150% more torque for up to a full minute, eliminating the need to oversize the drive.

In addition to the new M5 frame size, VLT Micro Drives are also available in single-phase 200 - 240 VAC, 0.25 - 2 HP; three-phase 200 - 240 VAC, 1/3 - 2 HP; three-phase 380 - 480 VAC, 0.5 - 3 HP; and three-phase 380 - 480 VAC, 15 - 20 HP power range configurations.

The VLT Micro Drive is a genuine VLT variable frequency drive with high reliability, user-friendliness and condensed functionality that is extremely easy to commission. Users simply connect the motor and power cables, turn the control knob, and watch the motor speed change. They feature conformal coated PCBs per IEC 60721-3-3, class 3C3, and provide serial communication via RS 485 Modbus RTU and FC protocols. A detachable Local Control Panel (LCP) with or without a potentiometer, an LCP copy function, as well as a panel-front mounting kit for the LCP, all facilitate ease of use.

The extremely compact VLT® Micro Drive provides IP20 protection even without the terminal cover. It can be commissioned in minutes to perform even complex operations. Approximately 100 parameters can be set to optimize energy efficiency and operation. A "flying start" feature provides more uptime while an electronic thermal relay eliminates the need for external motor protection. A built-in RFI filter saves on cost and space. The VLT® Micro Drive also features a smart logic controller - a simple yet clever way to seamlessly integrate the drive and motor for optimum application performance. This feature allows users to program the controller to react on virtually any event, often eliminating the need for a PLC.

Additional features include built-in AC and DC brake functions that help the drive transform kinetic energy from the application into braking power, intelligent heat management and coated electronics for maximized drive reliability and life, and the ability to copy settings via a local control panel (LCP) to easily set up multiple drives.

Danfoss is a leading manufacturer of precision mechanical and electrical components, with locations in more than 120 countries. In addition to setting the standard for high-performance quality variable frequency drives, Danfoss meets the needs of its customers through its EnVisioneeringSM partnerships. EnVisioneering focuses on developing new technologies for sustainable business growth through engineering innovation, energy efficiency and environmental responsibility.

Danfoss Drives, 4401 N. Bell School Road, Loves Park, IL 61111; Phone: 800-432-6367; Fax: 815-639-8000; salesinformation@danfoss.com; www.danfossdrives.com.

For Lead processing: Email or send all leads to: salesinformation@danfoss.com; Danfoss Inquiry Management, Attn: Business Development, 4401 N. Bell School Road, Loves Park, IL 61111. Please identify leads with item code DAN617 for fastest lead processing. All inquiries will be sent a copy of the appropriate literature.

More from Health, Medical, & Dental Supplies and Equipment